This article is more than 1 year old
NASA pops open a big can of red planet whup-ass with Mars Trek
Stand on Olympus Mons, tallest mountain in the Solar System
Astrocartographers at NASA have made it possible to explore Mars in both 2D and 3D, from your phone or desktop, in much the same way as you might an online map of Earth.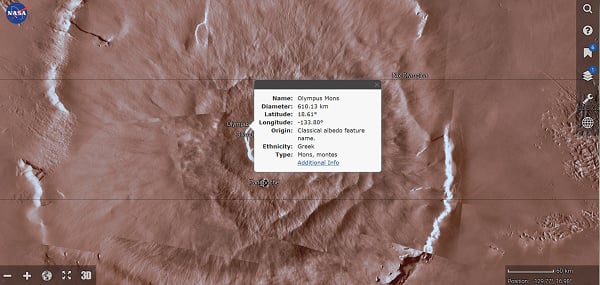 From urban orienteering, through to GeoGuessr, and Bellingcat's OSint, the professional, recreational, and activist use of maps has become firmly established as an edutaining pastime for netizens.
Now, NASA's Mars Trek website allows for some extraterrestrial exploration too.
An interactive map of the red planet's surface has been created from images captured over a series of missions.
While a screen-based dérive through its ancient canals and craters isn't possible, NASA has provided enough detail to allow reasonably detailed views of features such as Olympus Mons. Geological features on the planet's surface are noted and can be selected to provide additional information on another NASA website.
The site offers three maps, one of either pole as well as a global map on which it is possible to locate the rover Curiosity's landing site.
Explore the surface of Mars right from your phone or browser http://t.co/lXcvMJ86bh #JourneyToMars #SDCC pic.twitter.com/7y8KWNyU5e

— NASA (@NASA) July 10, 2015
A tour offered to visitors will show how to use various treats, including an opportunity to create .stl files to 3D print your own portion of the red planet's surface.
Additional information is available on elevation profiles, sun angle calculations, as well as the positions of the Sun and Earth.
Pre-recorded bookmarks note the locations of significant Martian events, as well as the opportunity to locate the current overhead positions of three of humanity's Martian orbiters.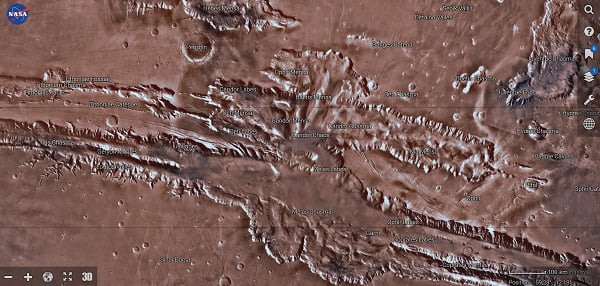 NASA describes Mars Trek as web-based portal for exploration of Mars, showcasing data it has collected at various landing sites.
Mars Trek is primarily an outreach product aimed at students and members of the public who have already been introduced to basic information about Mars and would like to enhance their understanding with some guided investigations of surface features and mission activities, and then conduct their own explorations of Mars by visualizing NASA data in an easy to access way.
NASA states "Future releases will include more technical information appropriate for scientists and advanced students, as well as modules that are more introductory in nature as entry points for the general public." ®