Petabyte punting Panasas pushes punchier performance product
Swoops on media and entertainment market
---
Panasas has added performance heft to its scale-out ActiveStor HPC arrays and is going after the media and entertainment market, as its rendering and post-process work needs HPC-style storage.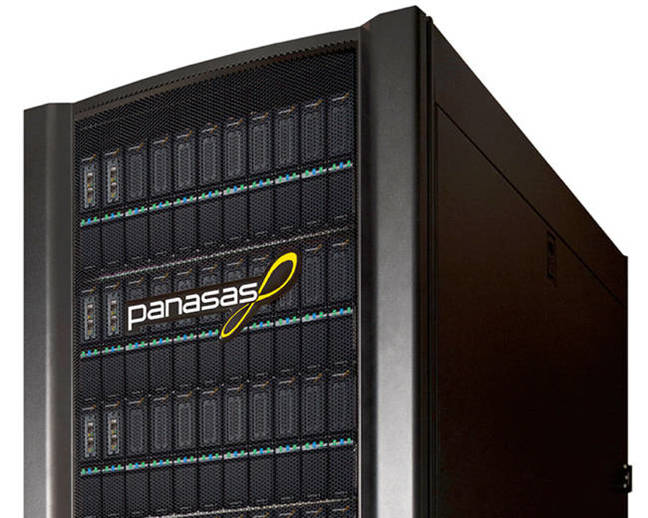 ActiveStor 18 rack
The latest ActiveStor 18 (AS18) array is the successor to the AS16, which was announced a year ago. It is the eighth generation of AS hardware. Panasas says that, compared to the AS16, it has 33 per cent more capacity, a 19 per cent faster CPU, and more cache, delivering up to 20 per cent faster mixed workload, metadata, and small file performance. In essence, it stores more data and you can get at it faster.
AS16 and AS18 quick look comparison table. Storage cache per 4U enclosure increases from 136GB to 272GB as well.
The AS16 architecture with separate director and storage blades is retained. Each storage blade features a CPU, RAM cache, an SSD, and two disk drives, with the storage blades changing from having dual 6TB He6 drives to 8TB He8ones, as well as a 4TB disk pair option for lower entry price reasons:
The CPU is faster, being a 4-core, 2.5GHz Intel mill, and cache has increased as well, from the AS16's 8GB/blade to 16GB. This benefits the director blades as well; they use the same CPU and this boosts their metadata, small file, and RAID rebuild performance.
Panasas says scale-out to 20PB has been seen in the field, where Rutherford Appleton Labs has a 130-shelf deployment, with 2,600 disk drives and 1,300 SSDs. This Panasas estate is managed by one person, who is not full-time on the Panasas work.
Users have three protocols with which to access the AS18: SMB for Windows clients, NFS v3 for Linux and Unix clients, and its own proprietary DirectFlow for fast and parallel access for Linux clients. Panasas tells us that DirectFlow:
Eliminates I/O bottlenecks by allowing cluster nodes to access Panasas storage directly and in parallel
Leverages a per-file RAID architecture so that compute clients can calculate RAID parity in parallel, without the performance limitations of hardware RAID controllers
Writes files as objects directly to Panasas storage blades
Enables clients to read files by fetching objects directly from the storage blades
The company is acquiring new customers at a steady rate, with the total customer count heading towards 600: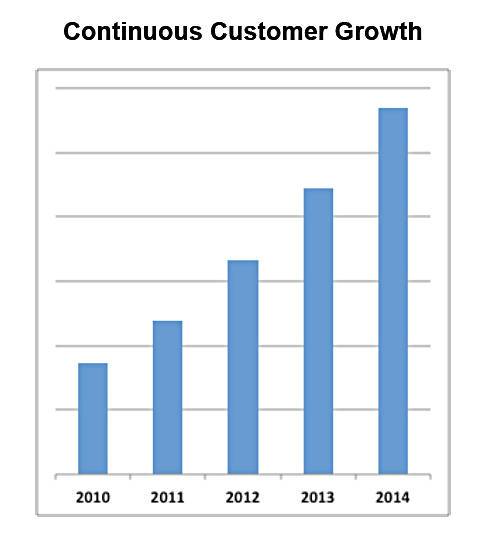 Panasas customer acquisition rate. Vertical scale is in hundreds starting at 0.
The move into the media and entertainment market should pump up the new customer count. It has existing deals with application software from Square Enix, Calvary Chapel, Asylum Entertainment, and Chainsaw Editing. Panasas is staffing up to be more effective in this market, which it sees as being pretty fragmented in a supplier sense.
It hired David Sallak as its VP for industry marketing. He was a CTO for media and entertainment in EMC's Isilon business. Phil Crocker has become Director of Channel Marketing and Sales Enablement, coming from being a global channel manager at Isilon. It's also persuaded Martin Eves to join as VP sales for EMEA, and he comes via Oracle and NetApp.
Eves likes Panasas's focus and its move into the M & E market. There's lots of scope for him to set up an effective channel and application supplier partnerships in the EMEA region. His canned joining quote reads: "I'm looking forward to driving market penetration of Panasas storage solutions in EMEA and addressing a broad cross-section of the hybrid scale-out NAS customer base."
Panasas has a new go-faster product and both its existing and a new market to go after with new staff. It can surely look forward to a good second half and 2016.
A 181.28TB AS18 with 8TB disk drives has a list price of $190,000 (£123,537.43). That's $1.05/GB (68p/GB). A 90.64TB AS18 with 4TB disks is list priced at $135,000 (£87,776.59), $1.49/GB (97p/GB). In comparison, a 134.6TB AS16 with 6TB drives cost $160,000 (£87,776.59) or $1.19/GB (77p/GB). How times change.
The ActiveStor 18 can be ordered now with shipment expected in September 2015. ®