This article is more than 1 year old
QLogic issues mournful prognosto ahead of next numbers
It's like they farted in a taxi and sent it into the storage market - analysts
QLogic expects a significant shortfall in its latest quarter's results compared to expectations set a couple of months ago and has issued preliminary numbers to warn the financial markets.
The expectation was for $124 million to $132 million revenues. Instead the prelim number is $113 million, well down, and comparing poorly with the year-ago quarter's $119.4 million - 5.4 per cent lower in fact.
QLogic expects to make, hopefully, a small profit, with GAAP net income per diluted share in the range of $0.00 to $0.01.
Why the slump in revenues? Q fingered a general server and storage array sales slowdown, saying its results reflected "lower than expected demand due to general weakness in the Company's traditional enterprise server and storage markets, and a build-up of inventory at certain of its OEM customers due to a slower next-generation server transition in enterprise environments."
That would be the transition to Intel's Grantley CPUs. Stifel MD Aaron Rakers points out:
"QLogic noted that its F4Q15 10GbitE results and F1Q16 outlook were adversely impacted (down seq.) by slower-than-expected enterprise Grantley tier-1 OEM qualifications."
QLogic CEO and prez Prasad Rampalli's tinned remarks said:
"We are disappointed with the level of business activity during the quarter. We will work through these headwinds, leveraging our technologies and solutions to expand our addressable market opportunities."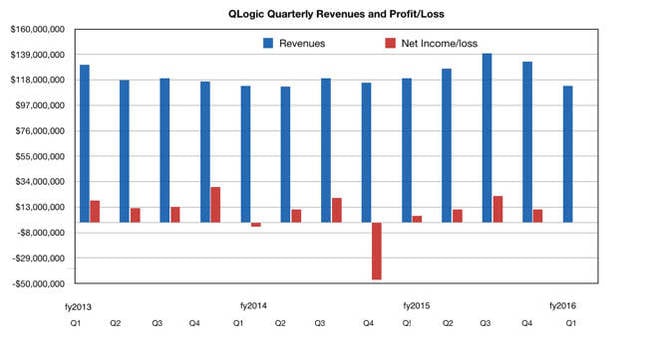 QLogic quarterly results chart including Q1 FY '16 preliminary revenue number
His customers mostly buy QLogic gear to connect servers with storage. Do Rampalli's remarks mean anything other than: "We'll wait until our customers start buying servers and storage arrays again"?
Probably not unless the second and third quarters go down the revenue toilet as well.
Rakers suggests that "QLogic's negative pre-announcement will be viewed as a negative data point for the enterprise server and storage markets (HP, EMC, etc), as well as a likely negative data point on enterprise HDDs (Seagate and Western Digital)."
Brocade may also take a revenue hit. ®