This article is more than 1 year old
How many top-level domains are there now? 300? 500? No, it's 1,000
And you probably know about six of them
There are now more than 1,000 top-level domains (TLDs) for internet addresses, covering everything from .abb to .zw.
This week, seven TLDs were added to the internet's root as part of the "new generic TLD" process being run by DNS overseer ICANN, pushing it over the 1,000 threshold. They were: .airtel, .barcelona, .bcn, .game, .jprs, .live, and .studio.
In response, one of the people in charge of keeping the internet's root zone file updated, Kim Davies of IANA, updated a much-referenced graphic that he published back in 2009 showing how things have changed.
Back in March 2009, there were "only" 280 top-level domains in existence – most of them so-called "country code" domains like the United Kingdom's .uk or Germany's .de. Of that 280, 248 were ccTLDs.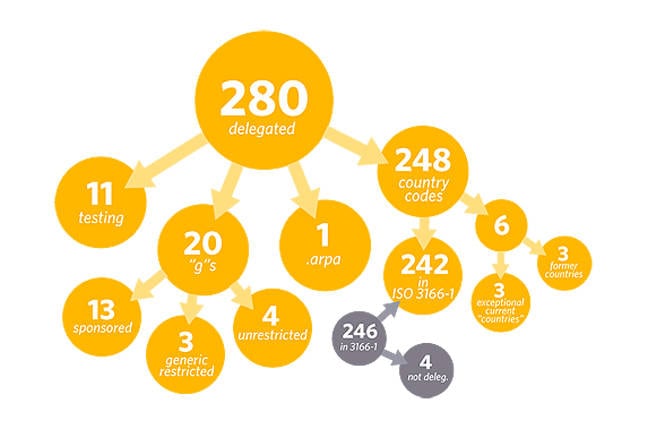 A graphic from March 2009 showing a breakdown of the internet's namespace. Image: Kim Davies
That situation has now been turned on its head and the previous 20 "generic" top-level domains - which include the most-famous .com TLD as well as .org, .net, .info and so on - are now 712 large.
Where country-code domains were once 89 per cent of the internet's namespace, they are now just 29 per cent.
When it comes to the actual size of domains, however, things look very different. Country-code domains are still by far the largest group in terms of sheer numbers of domains, but all are dwarfed by the monster that is dot-com, which contains over 115 million domains.
By comparison, the 694 new TLDs that have been created by ICANN in the past year manage collectively just 6.5 million names: roughly the size of the Netherlands' .nl internet space.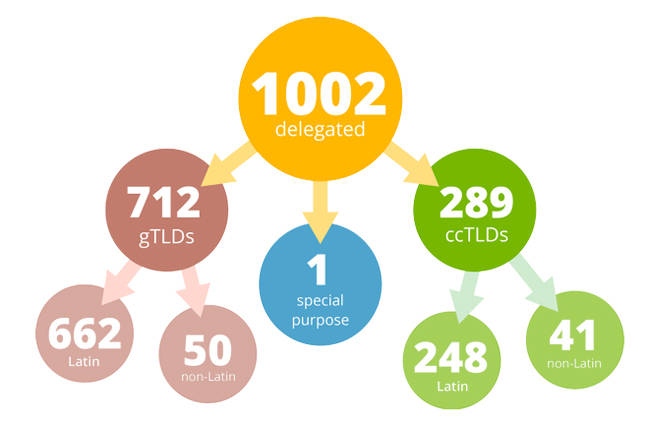 The updated graphic showing the 1,002 top-level domains as of 8 July 2015. Image: Kim Davies
That new space - which has brought us everything from the controversial .sucks to the head-scratching .horse - is growing at a huge rate however. In six months, the number of domains under the new generic TLDs has nearly doubled, from 3.7 million in January to 6.5 million today.
But perhaps most importantly for those interested in internet history, 1,000 is a significant number because of a phrase that Dr Jon Postel, the man who used to run the internet's entire naming systems, was fond of using in reference to the internet.
"Let a thousand flowers bloom," Postel was keen on reciting, meaning that it was not the job of those running the internet's infrastructure to decide in which direction it should grow, only that it should grow unencumbered and in its own way.
Sadly, Postel died in October 1998 and the company that took over his role, ICANN, did not adhere to the same philosophy. It has taken ICANN 17 years to reach the point that Postel and many internet originators wanted to reach within one year. But we are finally there. ®