WD silently murders Arkeia backupware
Rumours of its continued existence have been exaggerated
---
WD has admitted it is killing off its Arkeia backup software product: it is no longer selling it to new customers and stopping development.
Privately-owned Arkeia was bought by Western Digital in January 2013, bringing WD its deduplicating Network Backup software product and technology. It was placed inside WD's Branded Products SMB unit and its CEO, Bill Evans, became general manager of WD's Business Storage Solutions Unit. His LinkedIn profile shows him leaving in April 2014.
The product is visible on WD's website: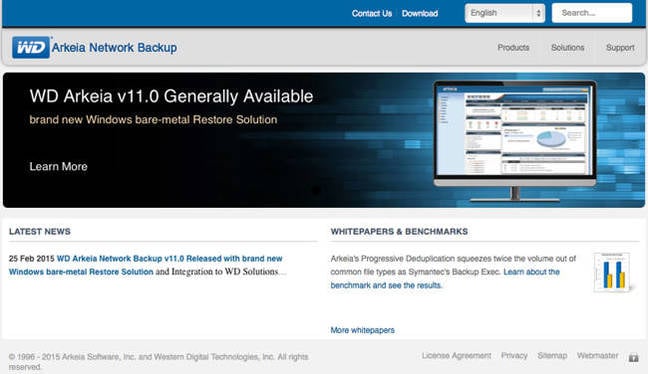 If you click the Learn More button you're told "Customers under maintenance can access this upgrade through their support portal". There's no information about where new customers could get help.
In February "Kalthen", a WD Community contributor, asked a question about Arkeia activity stopping:

An answer came back from "Bill_S", a community manager, on May 28:

This prompted a clarifying question:
So are you saying that:

1. you are no longer selling to new customers,

2. all support for all Arkeia products will end in 2019 at the latest,

3. current products will not be developed any further?
To which the reply was indeed clarifying: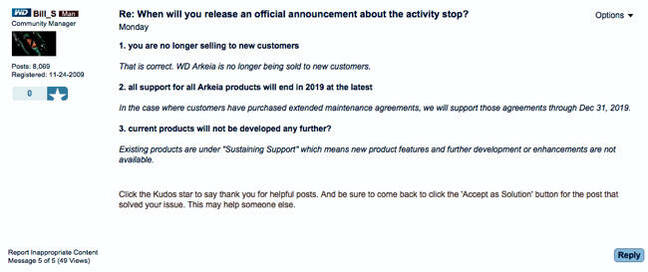 To sum up.
WD Arkeia is no longer being sold to new customers.
In the case where customers have purchased extended maintenance agreements, we will support those agreements through Dec 31, 2019.
Existing products are under "Sustaining Support" which means new product features and further development or enhancements are not available.
Conclusion: the Arkeia backup software product is dead.
We have asked WD to confirm that this is the case and will update you if and when we hear more. ®