Review Cycling an unknown route can be tricky. Either you have to keep stopping to check the map app in your pocket or, if you have your smartphone strapped to your handlebars, you have to take your eyes off the road in order to peer the screen. You also have to decide whether to leave it on for the whole journey, running the battery down, or stop and turn it on when you reach a junction.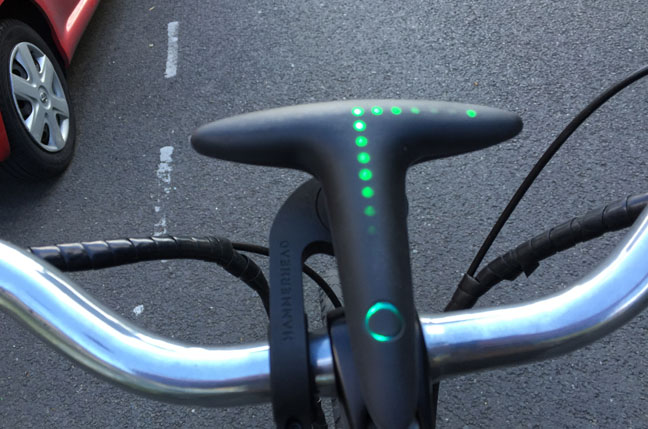 The Hammerhead cycling satnav: going green and leading the way
The Hammerhead is a bicycle navigation device that neatly solves these problems. It takes the form of a rubberised, soft-touch black device shaped like a letter T – or a hammerhead shark, if, like the inventors you're feeling whimsical – measuring about 12cm in each direction.
It fixes securely to your handlebars, twisting into a permanently-mounted bracket so it can be easily removed when you reach your destination. When you turn it on, it links by Bluetooth to the Hammerhead app on the phone in your pocket.
The device has no screen, but instead includes an array of LEDs beneath the surface that are invisible until they light up. A single blue light at the end of each arm of the T indicates whether you should turn left or right at the next junction; every few seconds a string of lights runs up the centre to indicate that, until then, you should carry straight on.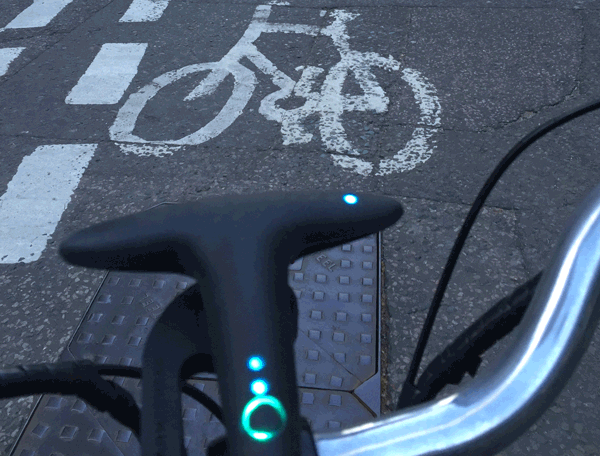 As you approach a turn, the lights get faster, and turn green when the turn is immediate.
As you near the junction, the lights form a running inverted L shape that speed up as you approach the turn; then, when the turn is upon you, the lights change to green to indicate an immediate action.
There are extra LEDs at the apex of the T, which perform additional tasks. These can show you if you've missed the junction and need to turn around; or, if you've gone off piste, dance in a square for a moment to indicate that the app is recalculating the route.
Similar topics