Get appy
The extra LEDs can also show when you need to bear right, rather than turn right – such as when you need to move into the right hand lane to get ready for a filter. The good thing about all this is that you don't need to take your eyes off the road while you ride: the LEDs are bright enough, even in sunlight, to be easily visible in your peripheral vision.
The accompanying app will always plan cycle-friendly routes and includes a cue sheet – click for a larger image
The app is available for free for both iOS and Android. It requires an internet connection, as the map data isn't stored within it. However, this does mean it's constantly being updated. It's also exceptionally good at finding cycle-friendly routes.
On a London journey from Camden to Pimlico it took me via a hidden entrance to Regent's Canal, along the towpath to Regent's Park, through the park on a cycle-permissible route, then through side streets and down the inside of Hyde Park, crossing Hyde Park Corner via a dedicated cycle path. It wasn't the fastest route, but it was certainly the most bike-friendly.
The app stores your recent routes, and you can save favourites for later retrieval. You can pull it up at any time during a ride to see exactly where you are on the map, and it can also show you text-based directions as an option. The hardware charges via a standard USB socket, and the makers reckon it can store enough charge for up to 10 hours of cycling.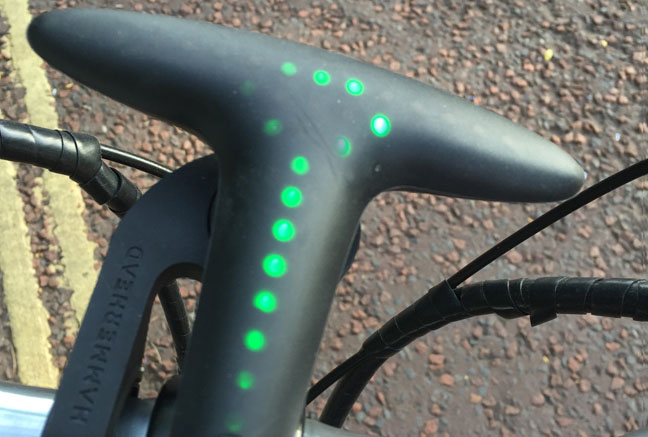 Made a mistake? The Hammerhead will tell you to turn around
Of course, using your phone's satnav for extended periods – even when the screen is turned off – does consume battery power. That said, you can leave your phone in a bag or pocket, and it's easy enough to plug it into backup power for the duration of the ride.
The Reg Verdict
The Hammerhead is an outstanding combination of hardware and software. Its ability to plan cycle-friendly routes is matched by the elegance, simplicity and efficiency of the hardware unit.
It has recently come to fruition after a long crowd-sourced funding round, and pre-orders are still being fulfilled. You can place an order on the website and it should arrive in about three weeks. Cycle courier optional. ®
Sponsored: Ransomware has gone nuclear

On yer bike: Hammerhead satnav for cyclists – just don't look down
Purpose built turn indicator cycling satnav with iOS and Android app for route planning and navigation communication
Price:
£75 (approx. including shipping) RRP