DDN has an entry-level Lustre appliance called the ES7K, EXAScaler 7000.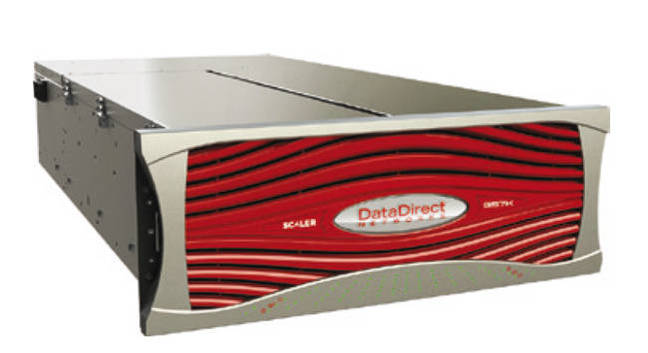 DDN ES7000 4U enclosure
The starting building block takes up 8U and uses two boxes, the 4U ES7K head unit with two controllers, 80 to 320 TB of capacity and 5GB/sec bandwidth, and a 4U StorageScaler 8460 drive drawer with 168TB - 672TB of capacity and another 7GB/sec. It can scale out to two racks with 992TB to 4.96PB of capacity and up to 60GB/sec of bandwidth.
The base building block configuration has 124 data drives plus 20 more for metadata. The ISC display configuration had 140 data drives and 4 metadata ones.
There are 4 x 56Gbit/s FDR InfiniBand ports or 4 x 40GitE with an optional set of 4 x 10GbitE ones.
It supports SSDs, performance and capacity SAS disk drives. There can be up to 144 3.5-inch drives per 8U device.
DDN's bezels use a Ferrari red colour, co-founder Paul Bloch being a Ferrari buff. Were told that the ES7K's bezel design is modelled on a Ferrari grille.
Actually the box is labelled the GS7K, it being, in fact, the GridScaler 7000 with GPFS replaced by Lustre. The box is so new the bezel label hasn't been replaced yet.
DDN says it is 3 times the speed of its closest competitor, which we think is Seagate/Xyratex' ClusterStor 9000, adding it takes up 8U vs ClusterStor's 22U, delivers 22GB/sec vs ClusterStor's 10GB/sec, meaning 1.5GB/U instead of <0.5GB/U. Seagate/Xyratex has its own Lustre IP whereas DDN uses Intel's, gained thpugh its WhamCloud acquisition.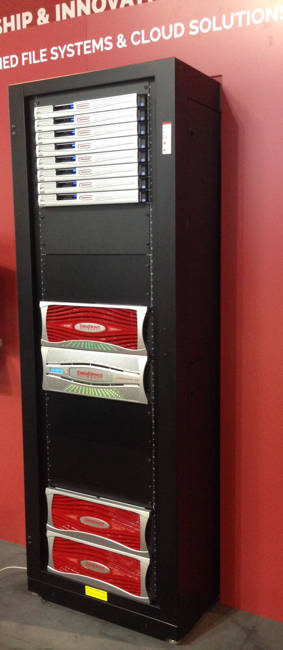 ES7000 in a rack; seen at DDN stand, ISC'15 Frankfurt
The top tier of 1U enclosures in the rack picture are client access nodes simulating a customer's cluster. The bottom two red drawers are a pair of WOS (object storage) enclosures; WOS can be a supporting store for DDN Lustre systems.
DDN says the ES7K is "the only Lustre appliance that automatically tiers data among high performance storage, archive, and cloud."
As a parallel access filer the ES7K is aimed at markets like research, oil and gas, financial services, manufacturing and big data applications requiring massive throughput, according to DDN.
Seagate/Xyratex and DDN have squared up for a Lustre fight, with Seagate having won SGI and Cray as OEMs for its ClusterStor kit. DDN has the performance high ground and, with the ES7K, an entry-level model to the overall EXAScaler range which, it no doubt hopes, will remove luster from ClusterStor.
The ES7K should be generally available later this quarter. You can check it out at the International Supercomputing Conference (ISC), booth #1010, in Frankfurt, Germany July 12-16. ®
Similar topics