This article is more than 1 year old
The Great Barrier Relief – Inside London's heavy metal and concrete defence act
Waves against the machine
Geek's Guide to Britain Last time London flooded was 1953. Three hundred lives were lost, 30,000 evacuated and the damage totalled a considerable £5bn in today's money.
Given how London has expanded since then, the record-breaking wet winter of 2014 would have been worse had it not been for the presence of 51,000 tonnes of metal and 210,000 cubic meters of concrete – called the Thames Barrier.
The barrier has been raised 174 times in the 35 years of its life: and 50 of those took place during that three-month period of 2014.
That year saw one of the wettest winters since records began in 1766 – 435mm of rain, beating incumbent 1915 (423mm) – with the flood walls of 1953 that breached still in place. The barrier added a crucial extra three meters to their height.
Without that, a 125-square-kilometres-area of London was at risk: historical landmarks, commercial and residential buildings, and underground lines and stations in a city that contributes £250bn to the UK's economy.
The Thames is not unique in having a flood defence system – other big cities and waterways have them, too, with at least six in Northern Europe: in Venice, Holland and St Petersburg all of various systems. There's a further eight systems on the Thames across tributaries that – with the Thames Barrier – are links in London's flood-defence chain.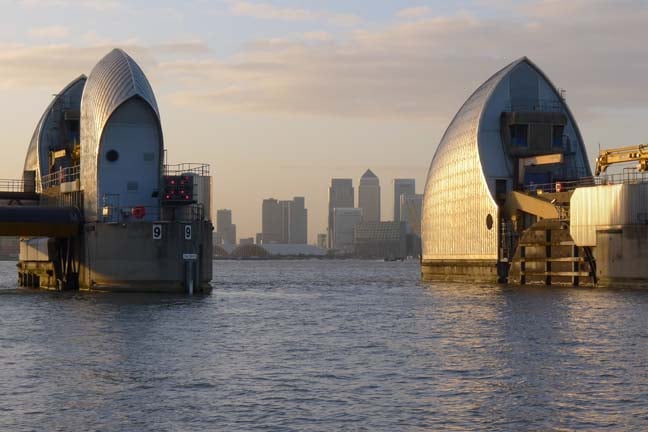 London shelters behind the Thames Barrier, photo: Gavin Clarke
Where the Thames Barrier stands out is in the fact it married forward-thinking design with innovative, yet practical, engineering. It's not the biggest flood barrier in the world, but it is the largest moveable barrier.
The secret was a new floodgate design – the rising-sector gate conceived by those designing the barrier – that's both powerful enough to withstand nearly ten thousand tons of water pressure yet wide enough for commercial and leisure craft to pass through into, and out of, London.
The barrier's gates rely on a simple system of industrial plant with multiple levels of redundancy. In a nightmare scenario of lost power and computers, it is possible to operate the gates manually out on the barrier.
Then there's that look. Bigger barriers in St Petersberg and Holland are testament to their municipal roots or practical purpose: squat concrete cubes or guillotine gates serving as bulwarks against angry Mother Nature.
The Thames Barrier's signature are a set of seven, silver-coloured domes on boat-shaped piers that straddle the river and resemble a fleet of yachts with the wind behind them, in flight into the center of London.
These domes and piers might well serve a practical purpose by housing the barrier's machinery from the elements, but they have also earned iconic status. Any picture of the London skyline that includes Nelson's Column, Tower Bridge and St Paul's is incomplete without the Thames Barrier.
I survey this sight from my vantage point high in the barrier's control room. I'm clutching a blue hard hat as I'll be out there in a few minutes, descending walkways, and squeezing past gears and pistons on a journey through this water-control machine and under the Thames to pier number seven.
It's a brisk and breezy December afternoon when I visit. Daylight is waning with Canary Wharf and the O2 receding in purple gloom and a banshee wind screeching around the piers. I feel like Ripley and the Colonial Marines in the terraformer on LV-426.
Compounding this, is the secure feel of this facility. The control room on the south bank tops a tower in the middle of a small complex containing a power station and workshops and protected by stout walls, heavy gates and a very taking-no-chances pillbox-like entry point. It's testament to the barrier's status as a piece of critical national infrastructure.
Inside the control room, however, all is calm (mundane even) with barely a handful of staff visible. The presence of flat-screen monitors, workstations and carpet makes it feel rather office like, albeit an office with a commanding view. There's glass on three sides: to the left the City, ahead the north bank's tower blocks, and east Woolwich Ferry and beyond.
But don't be fooled. Everything is arranged with purpose like the bridge of a ship, like the USS Enterprise, even. This bridge is split into distinct ares of activity: on one side weather monitoring, opposite are systems that raise and lower the gates, across the back run desks and phones where supervisors filter incoming data and assess whether to close the gates. In the far corner is comms who relay to the world any decision to raise or lower the flood control gates spanning the Thames.
Along the back is a schematic of the barrier, showing walkways and power lines.
Thames tidal defence operations manager Andy Batchelor is my guide. Batchelor is one of those who'd sit on that desk at the back, and who's authorized to give the order to open and close the barrier. He's been working here since 1984, when it was officially opened by HM the Queen and Prince Phillip.