The Great Barrier Relief – Inside London's heavy metal and concrete defence act
Waves against the machine
Doors to manual
But, hey, I'm not holding a hard hat for the fun of it: it's time to get out on the barrier.
I leave the control room with Batchelor and we descend to ground level via an aluminium lift, pause for a reading of the health and safety rules before Batchelor pushes the bar on what looks like a fire-escape and next thing I can barely hear myself think for the wind ripping past my ears.
We traverse a walkway over the first falling sector gate, over a muddy bank and enter a door in the side of a the first of those silver-coloured domes, before descending the first of a series of glossy grey metal gantries and stairways en route to our destination: pier number seven.
The Thames Barrier looks big enough from outside, spanning half a kilometre of water with each concrete pier eight times longer, five times wider and four times higher than a traditional London double-decker bus. Each silver roofs peaks at six times the height of a modern two-storey house.
But this is an iceberg and it's only inside you grasp the enormity of things: we clank across gantries and down stairways heading 18 metres below water level into the muddy bed of the river and the barrier's base.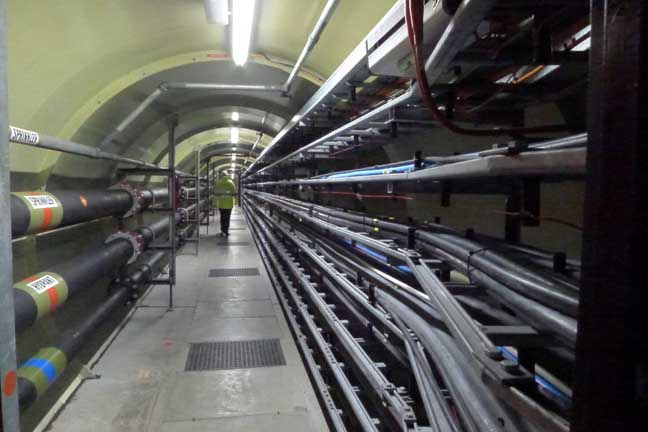 Fire suppressant systems left, comms cables right: inside one of two 500-metre access tunnels, photo: Gavin Clarke
Each pier comprises 168,000m3 of concrete while the sill is made of a further 33,000m3. Two service tunnels run through the sill; these let you traverse the barrier and connect each of the piers.
Remarkably, while the concrete was poured during the 1970s things look fresh and you'd never guess you're underwater: there's no dripping pools of water gathering on the floor and no mineral excretion squeezing through walls. Rather, the concrete walls and floor have an eggshell glaze, rows of orange cables hurry along walls and high-viz signs point their way to the various decks and walkways. It even smells clean, apart from one area on the tunnel dominated by a damp dish-cloth smell as we pass through, the result of engineers flushing old oil through the system.
Muddy bottom
We hit the bottom, and we're in one of two service tunnels. The sill contains a concave recess to house the rising sector gates when open, thereby allowing shipping to continue to pass unobstructed overhead. This sill is 18 metres deep and sits 8.5 metres deep in the riverbed; there's two metres of concrete above my head. Beneath my feet, 27 metres of foundation.
Along one wall run pipes carrying oil and the fire suppression system while on the other power lines, carrying up to 1,100 volts, and data cables, with copper being replaced by fibre. In the floor, drains run beneath metal covers.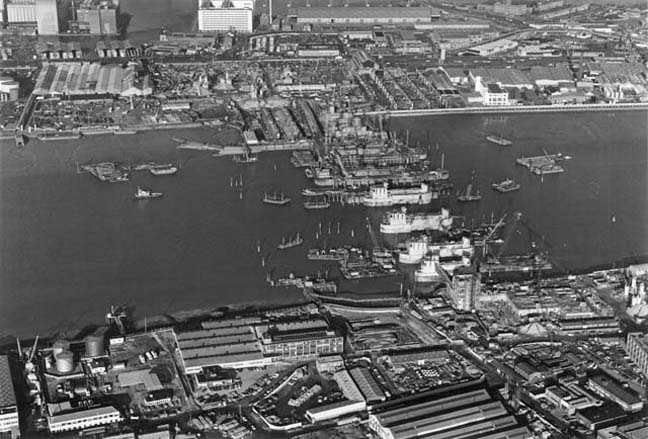 The Thames Barrier seen mid-construction, photo: the Environment Agency
It's as good a place as any to take stock, in the gloom and artificial light.
Floods are a feature of life on the Thames going back the full 1,500 years of human settlement around the river, but 1953 was the worst recorded in terms of sheer losses. However, things only kicked off following a 1967 review in the wake of yet more flooding, this time in the German city of Hamburg, and the Thames Barrier Act was passed by Parliament in 1972.
For a while, the barrier's iconic designers hung in the balance but fortunately the government set a high bar, ruling a barrier must be reliable, compatible with tidal flows, navigable and appealing to the eye.
Designers Rendel, Palmer & Tritton (today HPR) had proposed a guillotine-like drop-gate with two large openings in 1958 but this was rejected as were a pair of 150-metre wide openings favoured by Port of London.
Rendel, Palmer & Tritton evaluated 10 sites and 41 different plans with various options rejected either for not being navigable or for being visually offensive. The break through came in 1969 when he company's engineer, Charles Draper, conceived the rising sector gate, reputedly inspired by the domestic gas valve. The design ticked all the government's boxes and construction started in 1974.
The rising sector gates looks in profile like a semicircle and when not in use they lie flat side up in the concrete sills making the route between the piers navigable for shipping of most commercial and military size.
The gates rotate on a trunnion shaft attached to a concrete pier on either side lifted by an jointed arm and powered by the industrial plant inside each pier and sheltered beneath those silver-coloured domes.
As for the site, Woolwich Reach, this was selected for its narrow width and firm foundations, being of solid chalk.
Construction spanned 18-plus contractors and eight years, and involved digging and dredging channels and the sinking of coffer dams driven to depths of up to 24 meters into the river bed. The concrete piers, the base of those silver roofs, were sunk first; the sills were built using a mix of concrete re-enforced with steel.
They were built in a specially constructed dry dock on the north bank that was flooded so they could be floated out and lowered into position. It was a finely choreographed ballet that involved tugs and specially designed heavy-duty beams and synchronized winches from Sparrows Contract Services.
Precision was paramount: the biggest sills are 60 meters long by 27 meters wide, and 8.5 meters high — oh yeah, and weighs 9,000 tones. Units had to be moved in a confined space in fast-flowing water and positioned on the river bed 16 meters below with an accuracy of within 10mm.