The Great Barrier Relief – Inside London's heavy metal and concrete defence act
Waves against the machine
Proven technology
Apart from the metal gates, which were unique construction, every piece of machinery that was used to power the raising and closing of the gates had already been proved in the field elsewhere, according to Batchelor
But the barrier didn't just challenge the engineering brains, it shook up labor relations and financing, too.
The project initially used 12-hour shifts of workers – a common practice in civil engineering, but alien to a local labor force more accustomed to a 40-hour week. A switch to three eight-hour shifts produced resentment, caused by loss of overtime pay.
The length of the project combined with the uncertain economic climate of the 1970s and early 1980s (up to 24 per cent inflation) meant contractors wouldn't agree to a fixed-price contact. Funding was finally split between the government, 75 per cent, and the customer, the Greater London Council (GLC) who covered 25 per cent of the bill that landed at £535m (roughly £1.8bn in today's money.)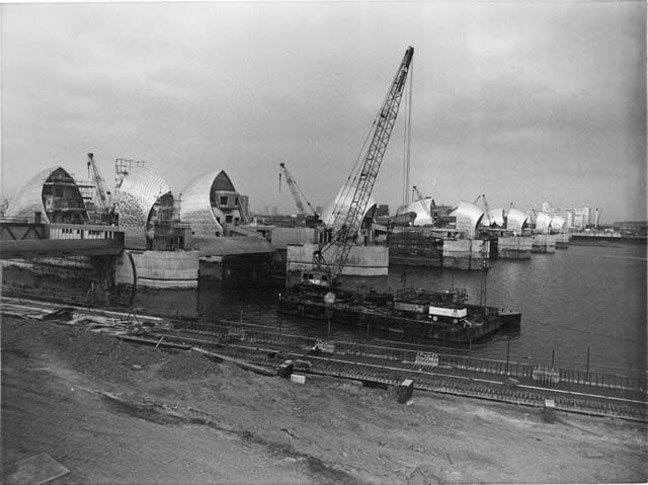 Nearling completion: the Thames Barrier acquires its distinctive look, photo: the Environment Agency
After a brief stop to consider this and stroll down the service tunnel we reach a sign to pier seven – time to ascend. Clattering upwards and crossing anterooms we break onto the daylight, and that screaming wind. Each central pier is 50 meters tall, penetrating the riverbed to 15 meters, is 11 meters wide and 65 meters long.
It's a minimalistic business out here: the pier is boat shaped, with a yellow crane stationed in the middle, like a sail boom. At one end of this pier, a large equipment room at the other a smaller local control room where engineers can operate a shift and latch system to move the gate should they have to.
These cranes are used to lift the equipment inside and below up and out for repair – there's one on each pier.
Tucked away just to one side is what looks like a yellow elbow joint: it's one of a pair of hydraulic-powered arms 24 meters in diameter attached to the rising sector gate. Mostly one arm is used but in exceptional circumstances two could.
These gates were built in the North of England and barged down the coast to London. The largest sector gate has a navigable width of 61 meters (equivalent to the aperture at Tower Bridge up stream) and the smallest rising sector and radial gates that are not navigable.