The Great Barrier Relief – Inside London's heavy metal and concrete defence act
Waves against the machine
Shopping trollies don't stand a chance
The 61-meter gates weigh 3,300 tonnes of which 50 is paint and another 20 are anodes applied to prevent corrosion to the metal. Each gate is hollow, made of plates 40mm thick and capable of holding back 9,000 tones of water during a tidal surge.
There's a 200mm gap between gate and sill in the riverbed, shrinking to 75mm. The gap between each gate and the sill means that any obstruction would get jet washed though – when closed, the water velocity under the gate reaches 13 m/s. The obvious question: what about other possible blockages, like supermarket trollies? Faced with the combined power of hydraulics and gate, such a trolley would be mince meat, Batchelor assures me.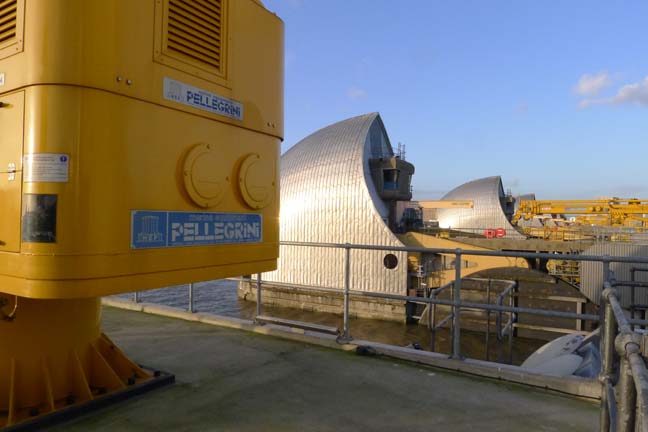 Pier decks are spartan affairs, cranes and little else, photo: Gavin Clarke
We retreat from the wind-blasted deck to the larger of the pier's two silver structures. Inside is not what you'd expect: equipment, yes, but big equipment; those electric pumps that pull 190 horsepower, operating cylinders, power packs, hooks and chains, some painted in the same juicy yellow as the plant outside.
Gear in here is duplicated, so each gate can be closed by any one of its two duty and stand-by power packs. The machinery is capable of producing a total of 8,000 tonnes of thrust to move the gates.
Everything is ensconced snugly beneath a delicate high-arched roof built using Iroko beams and European pine planks that help comprise a three-layer skin. The look and resin smell lends things a Scandinavian touch. The barrier's signature stainless-steel tiles are on the outside.
The whole forms more than just an iconic statement – it's practical: the tiles haven't been cleaned in 30 years nor have the been replaced.
This was a real break through: the piers could easy have ended up flat, like the stumps of the Eastern Scheldt barrier, with a road across the top.
"At the time stainless steel, as today, was very expensive, but we've never had to clean it or renew it" Batchelor said. "I'm a civil engineer, and if I'd put a flat roof on it, I'd probably have had to change that couple of times... it might have taken a little more outlay at the front, but over the term it's saved on cost."
One last thing to see: down and into a narrow side chamber housing a single piece of gear that looks like a piece of massive drill: an 11-foot screw shaft black with grease and with a series of levers at one end. This is a giant hand brake that grabs the gate and lets you hold it in position while decompressing the hydraulics. In the event of a total hydraulic failure, operators could also use this to lift the gate from the water.
Having squeezed down the side of this giant screw with controls it's time to leave: exit is quicker thanks to sleek elevator taking us 17 meters back up and out into the fresh and powerfully battering air whipping around outside. On our way Batchelor makes a small confession – he used to get lost down there, in that kilometer of tunnel and among those walk ways. "There was no signage or anything," he says.
There's a big fish we haven't gutted: climate change. Or, rather, how can a flood defense more than 40-years old stand up to today's realities of rising sea levels and human development that were, arguably, neither existent nor anticipated at the time? The barrier's end of life was pegged at 2030.
Batchelor cites a report of the Environment Agency, which runs the barrier and called Thames Estuary 2100 plan that gives the facility a role until at least, 2070 based on current assumptions about rising sea levels.
TE2100 recommends the flood defense chain of which the barrier is a large part be actively maintained and improved at a cost of £1.2bn, but advocates need for a long-term decision in 2050 on what comes after 2070. One option on the table a new barrier at Long Reach in Dartford, six miles away.
TE2100 was the product of six years' research into how flood risk in the tidal Thames floodplain that runs from Teddington to Sheerness and Shoeburyness would change as the result of human development and climate change. This floodplain spans an area of 350 square kilometers and encompasses 1.25m residents, 500,000 homes and 40,000 businesses.
"On current levels will we still be OK," Batchelor said. "Tony will have to keep doing his computer upgrades, the maintenance will keep carrying on, but on current climate predications and forecasts we should be OK to then."
I return my hard hat, shake hands with Batchelor and find myself once more beyond the stone and steel defenses. There's time for a look back at the span and wander the short distance to the Thames Barrier Information Center and Café.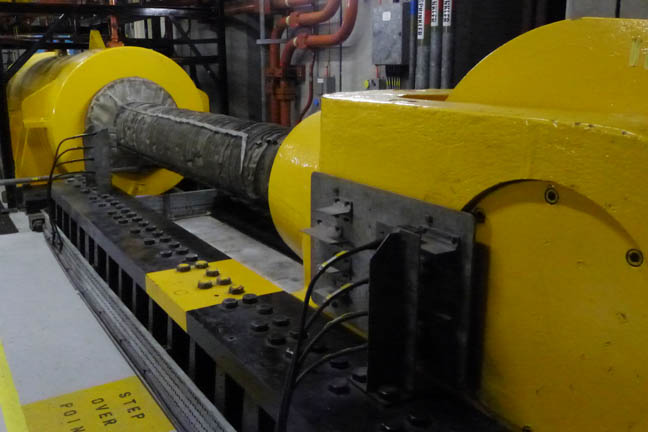 Heavy metal. One of the arms responsible for exerting 8,000 tonnes of thrust, photo: Gavin Clarke
You can't pass through the guts of the beast, but you can marvel from the outside walking down that bank. The Thames Barrier is a landmark on at least two walks – the 180-mile Thames Path and the shorter Green Chain Walk – and it can viewed from the water from a number of tourist and regular riverboats, too.
Surrounding is a mix of commercial and residential, but head south on the Green Chain Walk and you pass through woods once popular with highwaymen leading up to Charlton House and Park. Or, you can go north via the Woolwich foot tunnel or ferry, four miles east is Woolwich Royal Arsenal while to the West is Greenwich and all its attractions.
Further out the towers and bright lights of central London, receding into the purple winter dusk with their lights twinkling. Sites that owe their very viability and dry feet to the machinery I've just seen. ®
GPS
51.494758, 0.037236
Post Code
SE18 5NJ
Getting there
Car: A206, then on Eastmoor Street. Car parking available on site. Undergound: North Greenwich, plus two-mile walk. Rail: Charlton or Woolwich Dockyard, plus a short walk.
Other resources