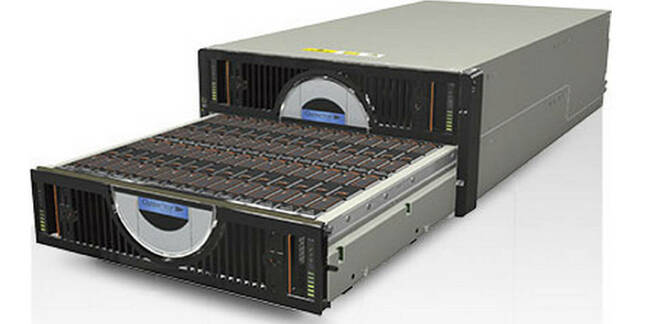 HP will resell Seagate's Lustre-ous ClusterStor 1500 and 9000 high-performance computing arrays, while Seagate is adding IBM's Spectrum Scale parallel file system to ClusterStor alongside Lustre.
These scale-out HPC arrays run the Lustre parallel file system and are OEM'd by Cray, as Sonexion storage, and SGI. The ClusterStors will work with HP's Apollo HPC workload-managing products. HP thinks they are well-suited to academic HPC, bio-informatics, pharmaceutical discovery, upstream oil and gas modeling, weather simulation, academic and government research needs. The company has already resold ClusterStors into the oil and gas market.
HP and Intel
Simultaneously HP is allying with Intel to launch an HPC centre of excellence at its Grenoble (France) facility with "experts from both companies to support customers in planning, developing, deploying and managing HPC solutions."
HP and Intel will open a similar HPC centre in Houston, Texas for North American customers.
The two are also working together so that HP Apollo servers will use next-generation Xeon processors, Xeon Phi products, Omni-Path interconnect technology and Intel's Enterprise Edition of Lustre.
HP says its Apollo processors can be customized to meet unique customer requirements in the HPC and big data areas and the centres of excellence will help there.
Seagate and IBM
Co-incidentally Seagate also has a deal with IBM to add its Spectrum Scale parallel file system, the re-branded GPFS, to ClusterStor. Spectrum Scale ClusterStore appliances will be marketed into genomic research, computer aided design, digital media, data analytics, financial model analysis and electronic design simulation markets.
Seagate claims to have shipped more than 17,000 petabytes and two million enclosures for its ClusterStor OEMs.
Spectrum Scale is reckoned to be generally more enterprise-friendly than Lustre in the parallel file system stakes, although Intel is working with DDN to uprate Lustre in this area.
By adding Spectrum Scale to ClusterStor Seagate should be able to enhance its attractiveness to in-enterprise HPC and Big Data customers.
IBM's largest Spectrum Scaler reseller is DataDirect Networks with its GRIDScaler products. It too is selling more and more storage systems into enterprises. Also co-incidentally DDN has launched its ES7K entry-level Lustre appliance said to be rather faster than ClusterStor and take up less rack space. DDN and Seagate/Xyratex competition is intensifying.
ClusterStor Spectrum Scale appliances should be available later this year. ®
Sponsored: Webcast: Simplify data protection on AWS