This article is more than 1 year old
Hyperconverged upstart Scale slurps $18m from cash-happy VCs
One thousand customers a good base for a business build-out
ABS Capital has led an $18m funding round for hyperconverged system startup Scale Computing, so it can (try) to spread its business around the globe.
Hyperconverged systems in Scale's case combine server, storage and virtualisation software elements in an appliance-like system for mid-market customers.
Scale says its clustered HC3 system is scalable, self-healing, highly available, and as simple to manage as a single server.
The product can be installed in less than 60 minutes and it can be expanded and upgraded with no downtime, it claims.
This is a nine-year-old startup operating in a hot sector with total funding of more than $63m. The extra cash will be "used to help quickly deliver innovative new products to global customers."
"Our investment in Scale Computing is intended to help it implement growth strategies that will better allow it to deliver its solutions to midmarket organisations around the world," said ABS Capital general partner Laura Witt.
This seems a business build-out round then, with CEO and co-founder Jeff Ready, saying: "The investment ... allows us to escalate our business plan and further penetrate the midmarket with these solutions."
Scale isn't promising enterprise data centre simplification and revolution, like the vastly richer Nutanix ($312.6m funding) and Simplivity ($276m funding).
Instead it is competing with the EVO: RAIL crew, VMware partners basing their hyperconverged sytstems on VSAN, and offering its small and medium business customers IT systems that reduce operational complexity and, dramatically it claims, costs.
The lower cost is helped by there being no virtualisation software to license (it uses an embedded KVM based hypervisor) and no external storage to buy. As far as storage is concerned Scale documentation states:
The storage layer is not a Virtual Storage Appliance or VSA but instead interfaces directly with the hypervisor allowing data flows to benefit from zero copy shared memory performance.

Nor is SCRIBE simply a re-purposed file system with the overhead introduced by local file/file system abstractions such as "virtual hard disk files" that attempt to act like a block storage device.

Performance killing issues such as disk "partition alignment1" with external RAID arrays go away. Arcane concepts such as storing VM snapshots as "delta files" that later have to be merged through I/O killing brute force reads and re-writes are a thing of the past.
Scale Computing was founded in 2006 and says it has has more than 1,000 customers across a number of verticals; health care, education, manufacturing, financial services, and government, for example.
Its funding history looks like this:
2009 – $3m and $2m
2010 – $9m and $17m
2012 – $12m
2014 – undisclosed amount
2015 – $18m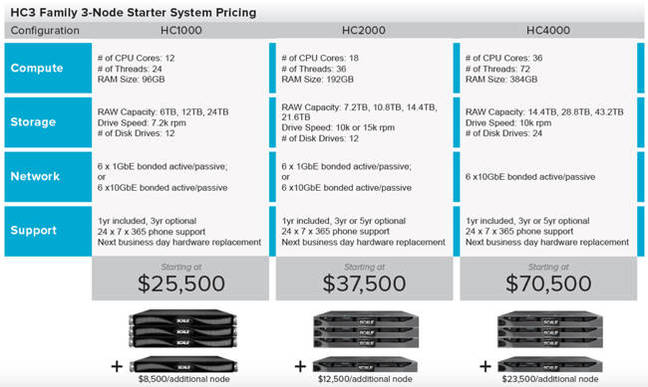 Scale system details and pricing. Click image to relax your eye strain.
Check out HC3 product specs here and Scale's software here. ®
1 Virtual disk block alignment problems can happen when you try to represent a virtual block device as a file sitting on a file system with its own different block size, which itself ultimately will sit on top of some other physical or logical block storage that may have its own block size and physical data layout.