This article is more than 1 year old
Microsoft nixes A-V updates for XP, exposes 180 MEEELLION luddites
XP rump now carrion for hackers as malware removal tool pulled, A-V updates cease
Windows XP holdouts are even more danger than ever after Microsoft abandoned anti-malware support for the ancient platform.
Redmond overnight stopped providing XP support for new and existing installs of its Security Essentials package.
The run-as-needed Malicious Software Removal Tool has also been axed, while support for patching ended in April last year for those who aren't paying large wads of cash to stave off an upgrade.
"Please note that since the above real-time protection products have limited effectiveness on PCs that do not have the latest security updates, your PC will still be at risk for infection," Redmond says.
"We strongly recommend that you complete your migration to a supported operating system as soon as possible so that you can receive regular security updates to help protect your computer from malicious attacks."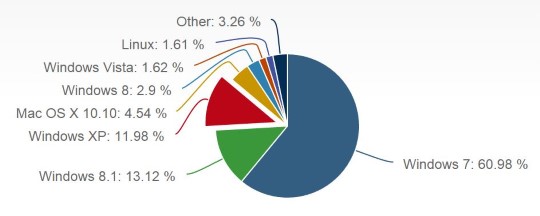 Netmarketshare.com data shows XP is alive and kicking
Windows XP's market share still beats its loathed successor Windows Vista, MacOS and Linux on the desktop.
The operating has a 12 percent market share or 180 million users, according to netmarketshare.com, putting it in third spot just behind version 8.1 representing 13 percent of installs, and version 7 with a whopping 61 percent of installs.
Most remaining XP users are based in Pakistan and Egypt, and have also this month lost use of Java after Oracle pulled support making XP a true all-you-can-p0wn smorgasboard for net villains.
In the most recent Redmond statistics, published last year, Microsoft security bod Tim Rains said Windows XP was a cracking six times higher than Windows 8 and double that of the most popular Windows 7.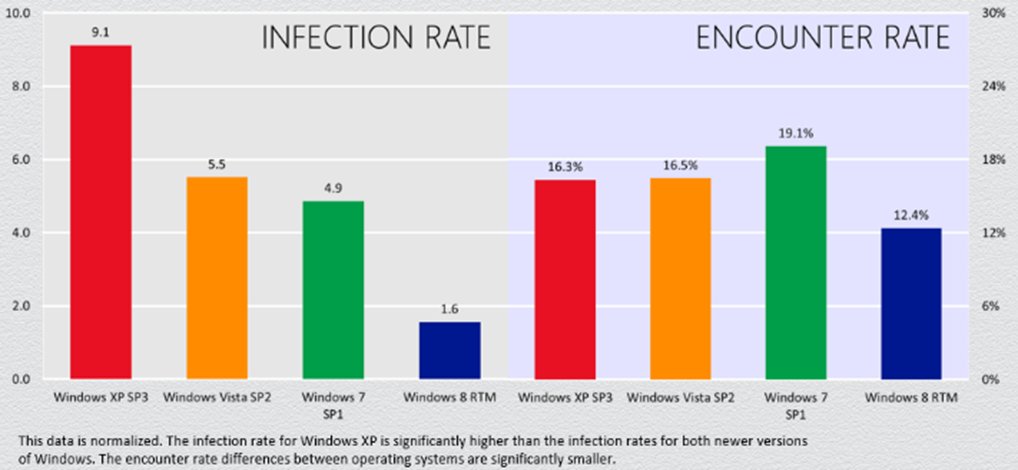 Windows XP infections in 2014.
Andra Zaharia, comms bod for Denmark CSIS' Heimdal Security says Microsoft should reconsider leaving those 180 million users open to attack.
"Of course we wish Microsoft decided to support the XP platform for a longer period given its commercial success, but since things didn't play out that way, it's important for users to know that if they don't move away from XP they stand to lose financial resources, personal information, and critical professional files," Zaharia says.
"From now on it will be easier than ever for cyber criminals to find vulnerabilities and penetrate the XP platform without being noticed.
"And we can say with certainty that no user can afford to take those risks." ®