Today, Friday, sees the launch of one of the more interesting new internet top-level domains that has been approved by ICANN: .love.
The TLD has passed from "sunrise" – during which trademark holders get first dibs on their names for a premium – to "general availability." Which means that you can now buy a domain ending in .love right now.
Plus you can actually buy Friday, I'm In .Love (you know, that Cure song you hate to admit you actually like.) But before you get too excited, it will actually look like this – fridayimin.love – and will cost you a hefty $375 each year because it is a "premium" name. Most other .love domains will set you back $30, however.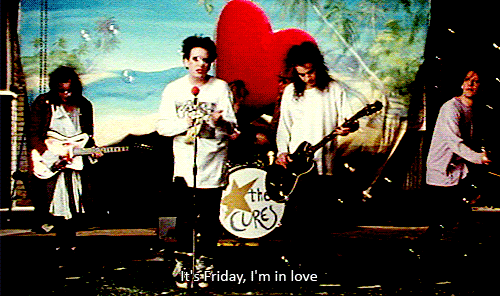 You say you hate it, but when alone in the car? We know you sing it
Why should you care?
Because .love is indicative of a whole group of new top-level domains that do not fit into the categories of business and organization-focused dot-words, and instead reflect what we do online and how the internet is something increasingly melding into our everyday, emotional lives.
Of the 1,000+ dot-words that exist right now, many represent geographic locations (like .uk or .berlin), or generic business (.com, .biz), specific business (dozens of dot-brands like .google or .hitachi), a particular hobby or activity (.law, .cars), or generic terms (.win, .tickets).
What the people behind .love are counting on is that people feel an affinity with the internet in a way that hasn't really existed before in the very regimented, largely corporate existence of internet names. They are hoping that people register domains out of a sense of fun or excitement, to use domains in the same way that people paint pictures or write letters. Something personal and creative.
Of course, who knows whether it will actually happen or .love will be forced to survive by chasing corporate cash and arguing that their ending offers another opportunity for the same products to be sold but with a different marketing message. We shall see.
Meanwhile at .sucks
And while cocking a snook at the cynics, there are increasing signs that the new generic TLDs are entering mainstream use and awareness – with two good examples coming from the controversial .sucks registry.
One of them is from the registry itself, Vox Populi. It stuck up a huge NewYork.sucks billboard next to the Boston Red Sox stadium at Fenway Park in Massachusetts, US. The domain leads to a simple website aimed at getting people to search for and buy new .sucks domains.
Meanwhile, in Silicon Valley, one enterprising company (TubiTV) has used a fictional company from the HBO comedy Silicon Valley to advertise the fact it is hiring.
A billboard featuring the expression "Hooli sucks" is riding high on Highway 101 in the Valley, and the same thing has been plastered on phone booths in San Francisco.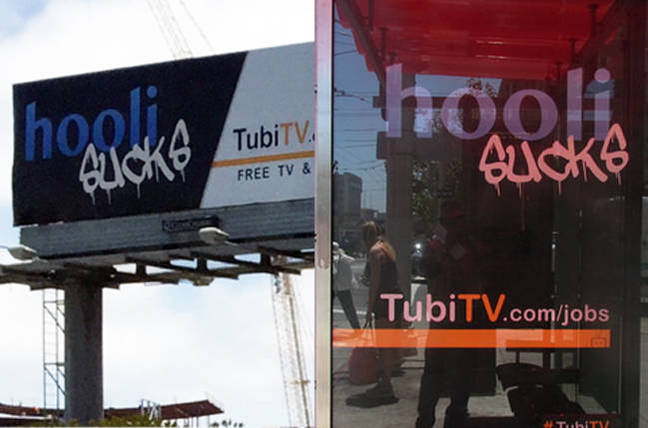 Nice idea – but is not getting hooli.sucks a wasted opportunity?
While its advertising is amusing, it doesn't seem to have grasped internet domains, however: the company owns neither tubi.tv (its website is at tubitv.com) nor hooli.sucks. So close, yet so far. ®