Analysis In ten years, legacy enterprise storage-area networks (SANs), network-attached storage (NAS), and direct-attached storage (DAS) revenues will have lost 88 per cent of their present value, according to Wikibon research.
Nearly 90 per cent of today's storage revenues will then be split between enterprise server SANs and hyperscale server SANs. These are SANs created by aggregating many servers and their direct-attached storage together into a single logical storage pool. Think enterprise server SANs on premises and hyperscale ones largely in the cloud.
Wikibon's research shows that enterprise server SANs today generate revenues greater than $1bn (£0.64bn), with an annual current growth rate of greater than 150 per cent, and talks of "profound changes roiling IT."
David Floyer is the research analyst and his report states "Enterprise Server SAN exploded in 2014 with a 187 per cent increase over 2013, and is projected to grow at a 44 per cent CAGR through 2026."
The report says "traditional enterprise storage is being squeezed in a vice between a superior, lower cost, and more flexible storage model with Enterprise Server SAN, and the migration of IT towards cloud computing and Hyperscale Server SAN deployments."
Here's the Wikibon chart summarizing this state of affairs: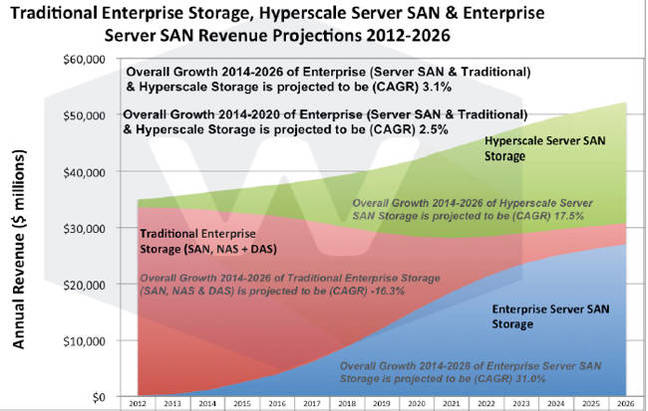 Enterprise server SAN has a CAGR of –16 per cent from 2012 to 2026. Flash storage arrays will start to take a high proportion of this spend after 2016.
If correct, this means that mainstream SAN arrays such as EMC VMAX and VNX, NetApp's ONTAP, HDS's VSP, Dell's SC, and HP's 3PAR face a catastrophic loss of revenue. This could lead to their wholesale demise and replacement by scale-out hyperconverged systems (think Nutanix and Simplivity) VMware EVO:Rail VSAN-based storage, HP Store Virtual, and similar products.
However, "The one area where traditional storage systems can continue to serve is the long-term data retention segment. This usually requires infrequent access to the data, but more frequent access to metadata about the archived data... Companies like DDN with WOS, Cleversafe, and Scality are pioneering new ways of drastically reducing the cost of long-term data retention."
If object-based storage is the key here, then the legacy SAN/filer products are facing an extinction-class event.
As server SAN usage grows, there will be a mass extension of data services from existing SANs and filers to server SANs, with enormous growth prospects for suppliers already in the server SAN business.
Why is the move to server SAN happening? Floyer says "The adoption of Server SAN will be driven by much lower cost, increased functionality, flexible performance, and improved interconnectivity. The increasing percentage of flash storage will allow the deployment of very low latency (less than 50 microseconds) and high bandwidth storage required by hyper-databases within this interconnected mesh... The traditional storage model based on islands of proprietary code supporting proprietary data services and proprietary management tools will not be a significant part of this interconnected computing beyond 2020."
In general, "Server SAN... brings the storage closer to the server, and builds an ecosystem that is more open, lower cost, and flexible. It is a much better fit for distributed edge storage for the internet of things, and much faster and closer to compute for high performance workloads."
Presently the leading server SAN vendors are:
Nutanix
HP
Simplivity
VMware
Pivot3
If revenue from additional hardware and software not provided by the Server SAN vendor but necessary to enable a Server SAN is included – for example, HW and services needed for a SW server SAN product – Wikibon's ranking changes to:
Nutanix
HP (VSA)
VMware
Simplivity
StorMagic
EMC is expected to feature strongly in future with its ScaleIO, VCE server SAN option, and DSSD products, about which the report states:
The DSSD acquisition [was] made for $1 billion [£0.64 billion] in 2014. This very low latency (50 microsecond) flash storage uses Flash as Memory Extension (FaME), with direct PCIe connections to servers through PCIe switches. Wikibon expects DSSD and other similar products to make strong inroads into the high-value high-end and higher margin segment of the Server SAN marketplace.
Wikibon's report has a server SAN functionality matrix and points out "Datacore's SanSymphony, the Citrix Sanbolic, and Nexenta platforms have the highest functionality scores (7/7), with EMC ScaleIO close behind (6/7)."
Overall storage spend will grow at 3.1 per cent CAGR through 2026, with the total Server SAN market then worth more than $50bn (£32bn) by 2026. The trad SAN and filer product technologies, and suppliers tied to them, won't benefit from that.
Information on accessing Wikibon's Server SAN 2012-2026 research report can be found here. ®