Made special by fashion
As soon as the smartphone is connected to the New 500 Lounge applications can be viewed and controlled on the touchscreen of the Uconnect system.
The apps have been redesigned and adapted for use while driving to keep concentrated on the road. The initial apps are TuneIn Internet radio, Deezer Internet music, Reuters, Facebook and Twitter.
More appropriate is eco:Drive, a driving style app which Fiat claims will reduce fuel consumption by up to 16 per cent and associated CO2 emissions by providing driving tips in real time.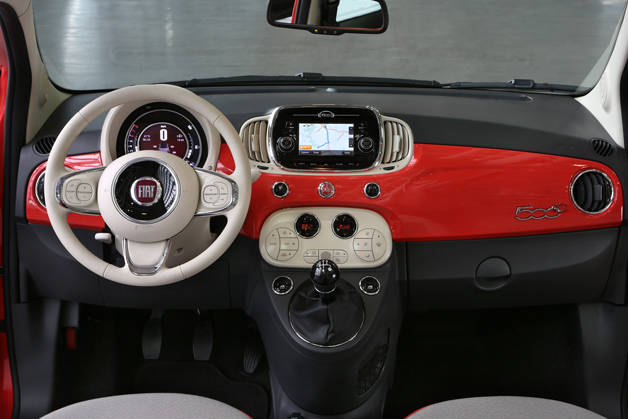 What makes the 500 special isn't the technology or the engines, it's the fashion, and Fiat is onto something with the customisation. Perhaps Fiat should combine this with the desire to have on-going revenue and offer a wrapping service.
When you buy the car it includes a schedule to have it re-wrapped every six months. Fiat could offer Spring/Summer or Autumn/Winter collections of wraps, maybe with a cruise option for the particularly well-heeled. The first three years are bundled in the price, in the hope that customers will continue the subscription beyond. It'll play well to the ephemeral market which Fiat seems to be targeting.
For the rest of us it's about value for money. The 1.2 will do 0-60 in 12.9 seconds, urban mpg of 51.4, extra urban of 65.7 and combined 60.1. But the twin-air engine is so much better than the FIRE it's impossible to recommend the cheaper car.
The 105hp car is really rather nice: 0-60 in 10s dead, urban mpg of 51.4, extra urban of 80.7 and combined 67.3, but it's too expensive, so the 85hp (£13,095 500 in the Pop Star trim) is probably nearly as near to a sweet spot as it comes.
That will reward you with the extraordinary figures of urban mpg of 65.7, extra urban of 80.7 and combined 74.3. So the most economical car is the one to buy, and it's not often we say that at The Reg. ®

2015 Fiat 500 fashionista, complete with facelift
New colours and engines make a the 2015 cooler and greener but this was always pretty cool and green
Price:
£10,890 to £17,070 RRP