This article is more than 1 year old
Flash in the pan? Dell 3D TLC AFAs are cheaper than spinning rust
First enterprise arrays to run on Samsung's chippery
Dell is hitting a $1.66/GB all-flash array street price point using 3D TLC flash drives from Samsung, the first enterprise array supplier to go 3D and TLC.
TLC (triple-level cell) NAND has 3 bits per cell and its production cost is roughly two thirds of 2-bits/cell MLC flash, the bulk of storage array flash shipped today. It's around two thirds cheaper to make than 1-bit/cell SLC flash and also not as fast and not as long-lived.
MLC and SLC flash is typically made in single layer planar or 2D form. By fabricating chips with multiple layers we get 3D chips which provide higher capacity without increasing the chip's footprint.
Also, by stepping back to larger processes from today's leading edge sub-20nm processes the endurance of the TLC flash cells can be increased and that is the case with the Samsung 3D TLC PM1633 SSDs used by Dell.
These have a 12Gbit/s SAS interfaces and the basic speeds and feeds are:

Basic Samsung PM1633 SSD details.
These SSDs are plenty fast enough for random reading and sequential reading and writing. They are meant for read-intensive work and come with a five-year warranty.
Dell is using them in its SC Series (Compellent) of SC8000, SC4020 and SCv2000 arrays, and hitting such low raw capacity price points that it claims its "all-flash configurations can offer a lower cost per gigabyte street price before applying data reduction technology than leading competitors' solutions deliver after data reduction."
It says it's offering them "at approximately the same price per gigabyte as high-end 15K HDDs and up to 24 times performance improvement, up to six times the density, lower latency and lower power consumption."
Alan Atkinson, Dell Storage VP and GM, asked suggestively: "Is this the beginning of the end for 15K drives?" A canned quote from him went on to say: "With these advancements, we can substantially reduce the cost of high-performing, flash-optimised arrays while also cranking-up the performance of affordable, general purpose arrays."
Customers can update existing arrays with the new SSDs or buy new arrays configured with them.
The SC4020 can provide a 90TB array in 2U of rack space, doubling existing SC Series flash density
With the new drives SC8000 arrays can support 62 per cent more flash; meaning up to 3PB of raw flash capacity in a single array
SC Series racks can offer 45TB per rack unit
Prices can be as low as as 58 cents/GB for typical hybrid flash configurations
The SC Storage Center v6.6 software has DataProgression tiering which can work with SLC, MLC and TLC flash as well as 15K and 7.2K rpm disk drives. Data can be placed in an appropriate storage tier based on its access patterns and type of IO. Thus running applications needing to write data can have it sent automatically to write-intensive flash, while read data is stored in, for example, TLC flash.
Dell believes hybrid flash/disk arrays have wider appeal than all-flash arrays and will ship both types of configuration.
SC Series all-flash and hybrid flash revenue grew 89 per cent year over year in the first quarter of 2015 and it thinks the 3D TLC flash should give sales a boost as no other supplier can offer equivalent density and cost drives in their arrays.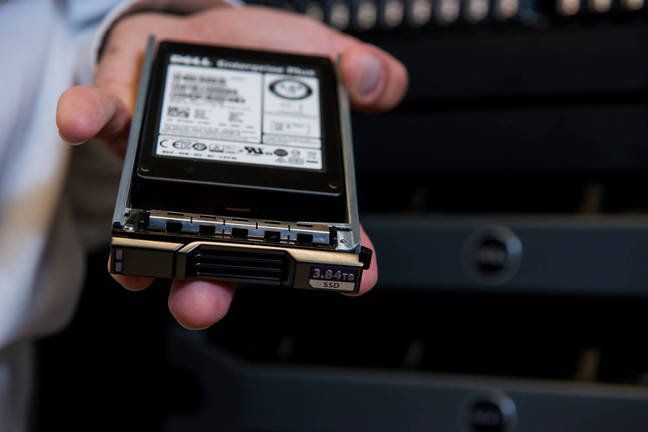 Dell's 2.5-inch 12Gbit/s SAS 3.84TB 3D TLC SSD
The $1.66/GB price point for raw flash should give Dell's reps and channel powerful ammunition against other all-flash array and hybrid flash/disk array vendors who simply cannot match it.
Competing vendors will catch up, but when? How long a period will Dell have to make revenue hay while its 3D TLC sun shines bright? It could be several months and Kaminario is most likely to have a 3D TLC product next.
Dell SC Series arrays will start shipping with 3D TLC SSDs in August, and will have standard warranties. ®