This article is more than 1 year old
Magic quadrant of four squares, who's the virtualisation Mayor?
VMware in the lead again, despite vSphere 6.0 missing the cut
The analyo-mages at Gartner have emitted their Magic Quadrant for x86 Server Virtualization Infrastructure for 2015 and found a race in two between Microsoft and VMware, the only companies rated "leaders" in the field.
The latter company's retained the prize position at top right in the Quadrant despite Gartner's mages not considering vSphere 6.0 in this year's effort. The decision not to cover Virtzilla's latest flagship release came down to timing: the Quadrant says it emerged "after the cutoff for this analysis." VMware nonetheless "maintained its functionality lead". It managed that trick without having new product assessed because Microsoft didn't release new product either. Redmond's current x86 virtualisation offering is still Windows Server 2012 r2.
But that doesn't mean the market is moribund: Gartner sees the Xen hypervisor's prevalence in the cloud, especially at Amazon Web Services, as a plus for Citrix.
Citrix has walked away from enterprise server virtualisation to concentrate on cloud, the Quadrant's authors assert. But that move may not go well because KVM-using OpenStack is doing rather better than rivals using the Xen hypervisor. There's also the small matter that even when Citrix wins for end-user computing, customers still use VMware's ESX as the underlying hypervisor.
Huawei's being herded into three niches. One is Asia, because the company's geopolitical problems mean it struggles to find markets elsewhere for its virtualisation wares. The second is its telco heartland. The third is users of Huawei hardware. Gartner notes the company has lots of lovely references, including plenty from mature markets, but suggests it needs a deeper and wider channel to progress.
Also in a niche is Oracle, which the Quadrant says has made good improvements to its products in the last year. "Oracle's push for an Oracle-only stack limits its general market potential," Gartner says, a common refrain in assessments of Big Red's plans.
Parallels' recently-renamed service-provider-centric virtualisation business Odin wins praise for its containerisation chops, which Gartner says represents "a head start on competitors". Can that last? Gartner's worried that "as every major cloud provider begins to offer container support, and as every major hypervisor vendor adds container support to its portfolio, Odin will be challenged to maintain its lead."
Gartner thinks Red Hat has the chance to become the clear number three to Microsoft and VMware, by positioning itself as the easy way to do OpenStack.
"Red Hat needs to successfully promote the idea of the right virtualization stack for the right applications, promote RHEV or Linux Containers (LXC) — especially for Linux-based development and new applications managed on LXC — and allow VMware to maintain a position for existing enterprise applications," the document suggests.
Back to VMware: Gartner notes the company's many strengths, but worries about the company's high prices, plus Oracle playing hard ball on certification and therefore draining away some customers. Microsoft's momentum is also noted, but there's lots of upside in the form of the chance to expand into new verticals and go cloudy.
"Microsoft," Gartner suggests, "can now meet the needs of most enterprises with respect to server virtualization. Its challenge is neither feature nor functions, but competing in a market with an entrenched competitor," namely VMware. Redmond's not winning customers away from Virtzilla, but is finding niches where an organisation will prefer Hyper-V.
"This strategy of 'second sourcing' will enable these enterprises to evaluate Hyper-V for further deployments and perhaps leverage the competition in deals with VMware," the Quadrant opines.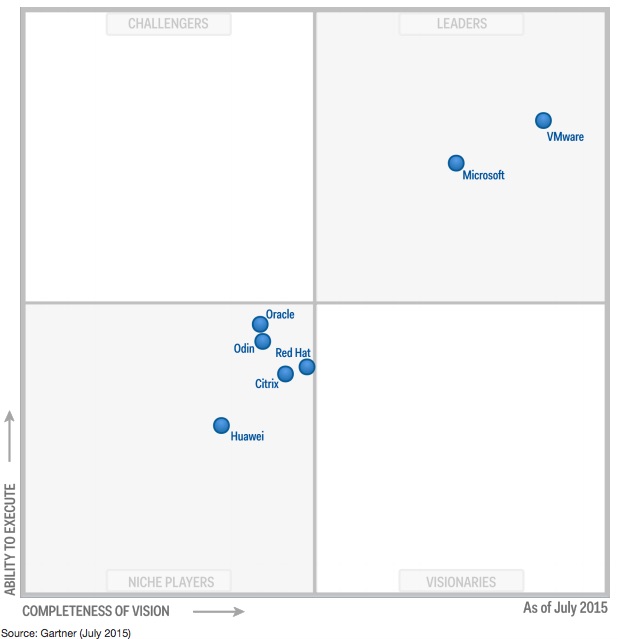 And there'll be plenty of times for conversation about Hyper-V: the document rates Redmond's containerisation and cloud efforts highly, suggesting both will generate lots of developer interest.
Overall this year's Quadrant paints a picture of a stable segment. None of the niche players look like busting out and neither of the leaders look in trouble. Cloud challenges everyone. Whether it offers an elevator remains to be seen. ®