This article is more than 1 year old
Project Morpheus VR headset hands-on at the Sony Summer Showcase
Plus The Reg strikes back! Gaming on Star Wars: Battlefront
Video This year's E3 saw a bunch more titles added to the Project Morpheus roster and now it seems like the release date for this Sony VR headset is just around the corner – the first quarter of 2016, apparently. At the recent PlayStation Summer Showcase in London, I was given the chance to n00B it up on some of these titles.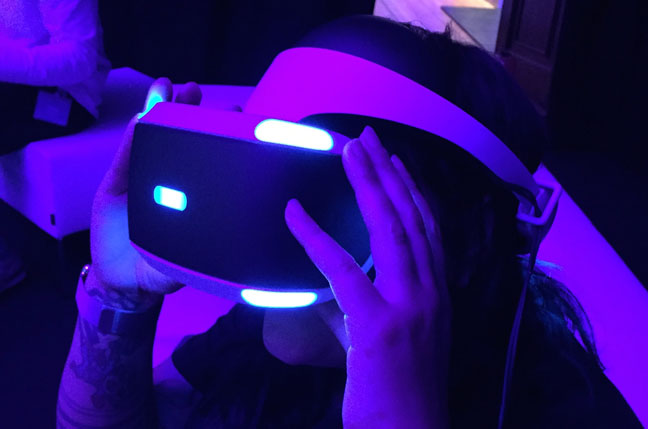 Sony's Project Morpheus headset delivers an excellent field of vision
Curiously, given that Morpheus is an all-consuming headset, I entered a darkened room to begin this experience. Maybe there's some light leakage on these early goggles or Sony reckons folk will be saving energy by gaming in dark homes.
The impressively ergonomic visor is adjusted by a button neatly tucked away on the bottom of the eye-wear. As yet, Project Morpheus doesn't have any integrated earphones, so I put on some cans and took in the view.
I start out in The Playroom, which is full of toys and robots. I choose to play a cutie Godzilla who also sports a Project Morpheus headset.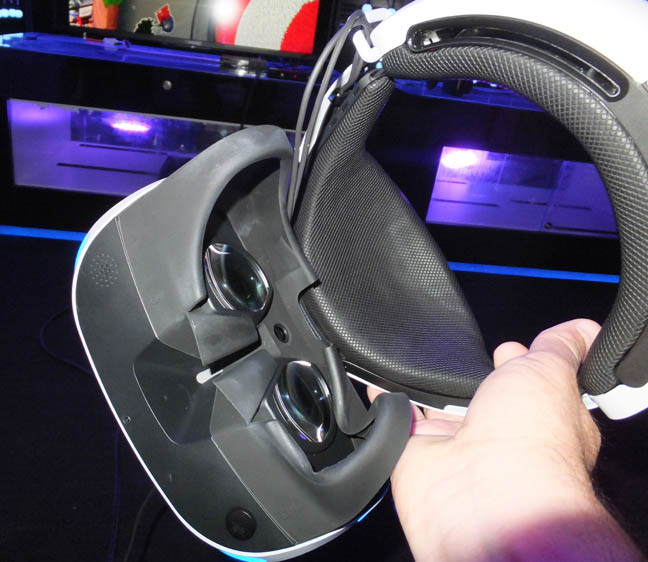 The button at the bottom adjusts the the visor positioning
Here, the headset is my controller and the aim of the game seems to be to head-butt as many helicopters and buildings as possible, while chasing some mini-robots (controlled by other players using dual shock controllers) into the sea.
Just before we all dive into the water the electrical Jawas bring out the heavy artillery and blast me back into space. I am already impressed with the crystal clear HD display and ability to swivel my head around the room. Remarkably, I'm still not feeling nauseous but boy, do I have a sore neck. That's soon forgotten, though, as it's time to move on to another Project Morpheus rig and grab a couple of move controllers.