This article is more than 1 year old
Seagate pumps up EVault capabilities to enterprise level
Check out the 4X speed increase, and 5X capacity increase
Seagate has improved the punch and capacity of its EVault hybrid backup products, with 4X speed boost and 5X capacity enlargement.
EVault hybrid backup uses on-premises appliances storing some data locally and sending the rest to a public cloud service; Seagate's own or Azure in the USA with national service providers in EMEA where data locality rules could apply.
With this update Seagate is signalling it's strongly focussed on getting a good piece of the data protection market; logical as it would involve storing data on tens of thousands of its disk drives and JBOD enclosures.
It's taking on virtually everybody in the backup market, from the Code42, Asigra, Acronis and Druvas, through Veeam to Symantec, CommVault, EMC and IBM, with the belief that hybrid backup and recovery is the way to go.
Whether it will evolve by adding file sharing, more VM-level services like cross-hypervisor conversion, and analytics of its stored data is open to question. For now just getting a goodly share of the total daily stream of data pumped out to backup targets would be good news for its management.
EVault Backup and Recovery Software and Cloud Backup and Recovery Services agents get an up to 400 per cent speed improvement for backup, restore and replication. The software can now handle read speeds of up to 6TB of compressed data per hour on a single module*.
Also a backup image can now scale up to 2PB, it being 40TB before we're told.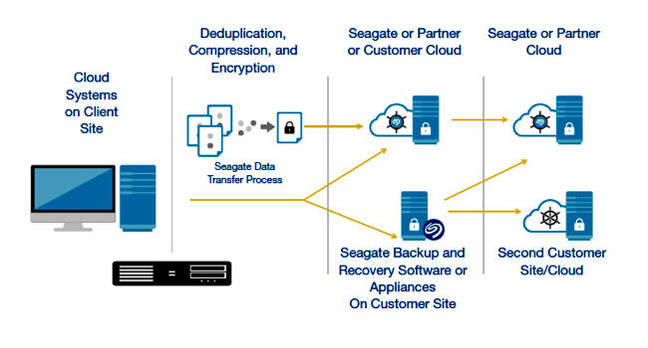 General EVault scheme.
There is a new Backup and Recovery Private Cloud scale-out offering for managed service providers which can scale up to 1PB in two racks of Tier 1 storage and 2PB in one rack of Tier 2 storage. Seagate said it "supports multi-tenancy and delivers speed, virtually unlimited scale, and high availability. The scale out aspect ... has virtually no bounds."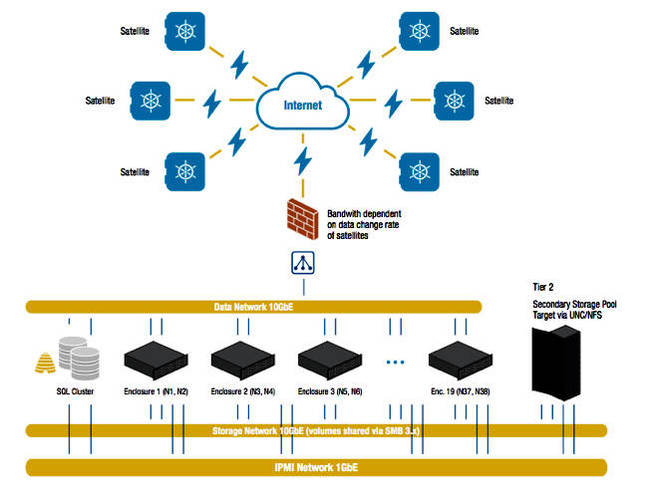 Seagate Backup and Recovery private Cloud diagram.
Seagate said its Data Management Services can automatically analyse data usage and suggests the most cost-effective storage tier for data, bearing in mind compliance requirements, policy enforcement and data governance
Find out more about Seagate's EVault data protection services here and its Backup and Recovery Private Cloud here (pdf).
This data protection software and the Backup and Recovery Private Cloud will "be delivered by Seagate, its value added resellers (VARs) and managed service providers (MSPs) to customers from small and medium sized businesses up through large enterprises for private, public and hybrid cloud deployments."
They will be available in the US and EMEA at the end of August. ®
* Seagate said this 6TB/hour figure was generated with performance under lab conditions: 10 Gbit/s network, compression and dedupe ratios of 2X-8X.