The experience soon goes downhill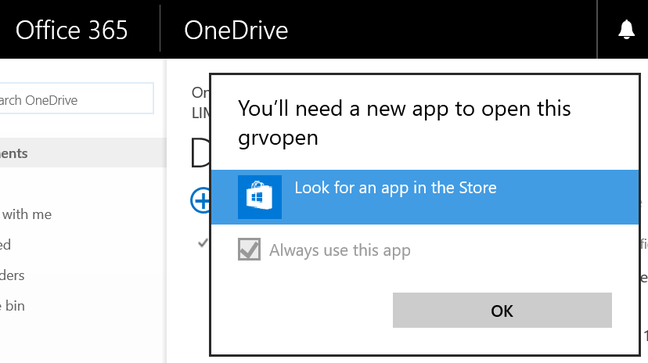 Click Sync and you get this strange message
Unfortunately the experience went downhill fast. I clicked into my Office 365 OneDrive site and hit the Sync button. A message popped up, "You'll need a new app to open this grvopen". Despite being prompted to look for an app in the Store, I figured that the solution was to install Office, so I clicked Office 365 settings to download software.
This is with an E3 account which includes rights to desktop Office.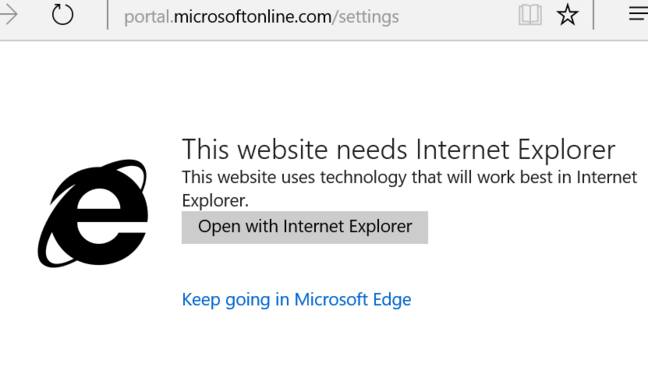 The Office 365 site is not fully compatible with Edge
The Edge browser apparently cannot cope with Office 365 settings – or it is the other way round? Either way, I was prompted that "This website needs Internet Explorer". I clicked to "Open with Internet Explorer", and guess what, a sign-in screen appeared. In other words, single sign-on apparently works with Edge but not with IE.
Once signed in, I downloaded the preview of Office 2016, which includes the OneDrive for Business client. Microsoft's streaming installation technology makes this quick and painless. When done, I went back to Office 365 OneDrive and clicked Sync again. The latest OneDrive for Business client (though note that this is a preview) has not lost its capacity for bewildering errors. The client opened, but I got a script error, "console is not defined". Next, I saw the message "the server you are trying to access is using an authentication protocol not supported by this version of Office".
Despite these message, OneDrive for Business did eventually start synching my library. I opened a document from the Explorer folder and Word wagged its finger at me. "Be careful, files from the internet can contain viruses. Unless you need to edit, it's safer to stay in Protected view." This is madness, for a file which I created and on a machine supposedly signed in to Office 365.
Microsoft has promised to overhaul OneDrive for Business and to use a single sync engine, based on the one for consumer OneDrive which is a little better. The new client was shown at the Ignite conference in early May, and according to Director of Product Management Reuben Krippner, "will preview in late Q3 2015 and be generally available by the end of the year."
In the meantime, even Office 2016 still includes the bad old Groove.exe (the executable that forms the OneDrive for Business client).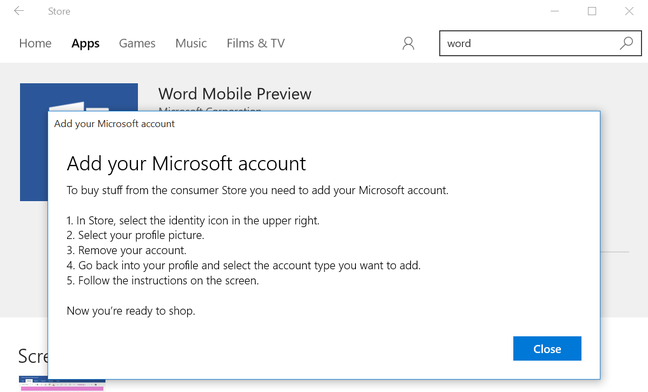 Want to use the Windows Store? You'll need a Microsoft Account
Shortly after starting to use Windows 10, a notification popped up. "Get to your files from anywhere ... OneDrive is your free online storage." This of course is consumer OneDrive, and clicking this will prompt you to sign with the an MSA. Similarly, if you go to the Windows Store and try to download an app, even a free one, then you have to sign in with an MSA.
Apps, like Music and Photos, hook into consumer OneDrive, but not the business version. Windows 10 will work without signing in with an MSA, but users are constantly pushed towards it. For the Office 365 user, it is a point of confusion; have they not already signed into Microsoft?
Microsoft is addressing this to some extent. Director of Program Management Alex Simons posted about the "Enterprise ready Windows Store":
"The Windows Store will support app acquisition and licensing with Azure AD accounts. Organizations will be able to volume-license apps and make them available to the users in their organization."
He adds though:
"Some of the stuff we're going to blog about here is still being developed and will probably show up in Windows 10 in the fall rather than in the first release this summer."
Roaming of OS settings, such as desktop wallpaper, Start menu configuration and Wi-Fi passwords, does appear to work with Azure AD sign-in; the option is available in the Accounts section of Windows 10 settings.