Animated behaviour
The font chosen is often too small for "glance-ability" – too much is packed onto some screens. It's something Pebble says it will address. I found the new animations to be highly distracting, and there's no way (yet) to turn them off. Also, dust gathered in the gap between the display and its housing, quickly diminishing its shiny-shiny appeal.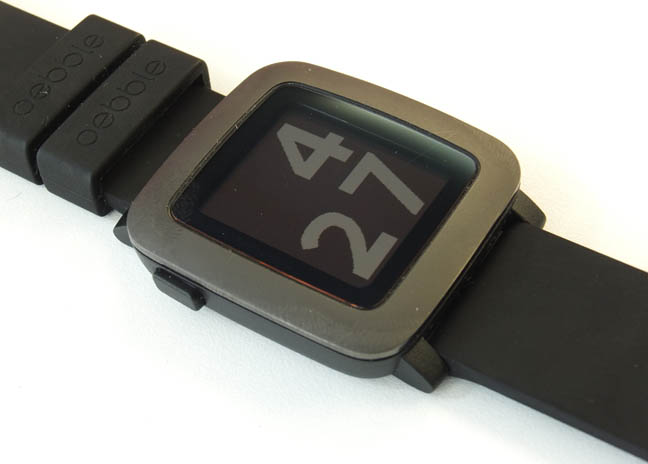 Besides being a fingerprint magnet it managed to pick up some fine scratches, visible on the top right
The problems actually began when I began to pair the device. You need an entirely new app to configure it, the Pebble Time app. It was ages before I realised this – and support boards are rife with people who, like me, tried long and elaborate procedures to get the watch set up.
We even got official support from Pebble itself – which failed to point out the obvious. Although the Pebble Time app warns you it won't work with the older models, the older app doesn't seem to know about the newer model, and invites you to get the newer app. This wouldn't happen if there was just one Pebble app.

Music player, Timeline, Uber notifications, Enigma watch face and Weather Land
Apart from all that? Yes, it is pretty groovy. Or will be once the smart straps appear. Pebble's great strength is its longevity and practicality. Apple and Microsoft pack their wearables with health monitoring sensors, which you then have to take off for a swim. Fine if you keep fit in the gym or biking or running, but not if you work out in the pool.
Pebble already boasts apps from Jawbone, Misfit, Fitocracy and Runkeeper, and should make a nice little niche here. The only strap I tried was the one it came with. A little catch makes replacing it very easy.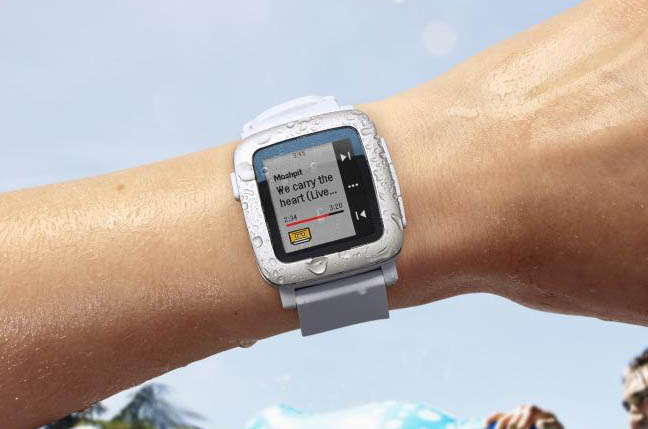 Still pool friendly
I'm rather ambivalent about the new Timeline UI. It's conceptually neat and simple enough. The up button now takes you to past events; the down button to future events. It does mean that pausing and playing music requires two clicks, though.