Microsoft has revealed the first Preview of Exchange Server 2016.
As is always the case these days, Microsoft says the new version of Exchange is a distillation of all the cooler stuff it does to make cloudy Exchange work at scale.
There's a big architectural change in the form of the demise of Client Access servers (CAS).
CAS boxes route traffic to Mailbox servers, which do what it says on the can. Microsoft now says it's doing away with CAS because doing so will simplify matters and improve reliability. All servers will therefore operate as CAS and Mailbox servers. Microsoft's thinking is that CAS boxes were a point of fragility: if one went down, you lost capacity to reach Mailboxes. Now if a server flops, Microsoft feels the load will be shared among all the servers in an Exchange rig instead of creating a CAS bottleneck. There's also a pledge that "Failovers in Exchange 2016 are 33 percent faster than Exchange Server 2013 due to the ability to read from the passive copy of the database."
The Outlook webmail experience gains features including "Sweep, Pin, Undo, inline reply, ability to propose new time for meeting invites, a new single-line inbox view, improved HTML rendering, better formatting controls, ability to paste inline images, new themes, and emojis".
Microsoft's promising better search in Outlook, as it now "fully benefits from the power of server-side search." The web client will be better at highlighting search terms, too. End-users won't be able to use either the web or desktop client to smuggle stuff out of the building, if Microsoft's claim of enhanced data is correct. Redmond says it's added "30 new sensitive information types to Exchange, including data types common in South America, Asia, and Europe" and fine-tuned detection code for other data types.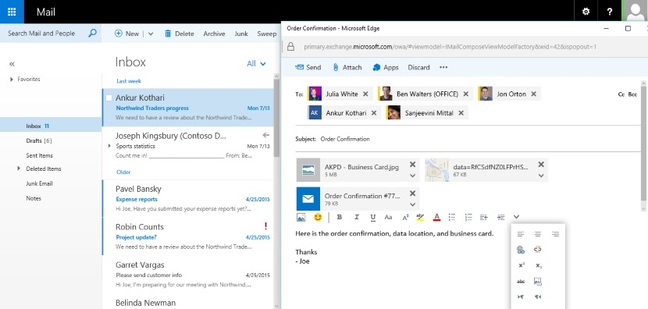 The new look for Outlook Web access. Embiggen here.
There's also a look at how Microsoft does business these days in the form of features that allow you to run Exchange and store mailboxes on-premises, but still pipe in Exchange cloud services.
Exchange admins are promised ease of use, thanks to a largely-unchanged management toolkit and a new feature that automatically adds capacity to users' inbox archives. They're also promised an easy migration as it will be possible to add an Exchange 2016 server to a 2013 domain.
And that's not all folks: Microsoft says that "Between preview and final release we'll add additional features, such as updates to auditing architecture and audit log search." We can also expect "new document collaboration features that help people work with attachments in smarter ways", but must wait for SharePoint Server 2016 and the Office Web App Server to ship before that fun starts.
You can download the Preview here, but forget about running it on anything other than Windows Server 2012. There's no word on when the final version will ship, but deep into 2016 is a safe bet as that's when Microsoft says SharePoint 2016 will debut. With the new attachment-wrangling features mentioned above dependent on SharePoint's arrival, perhaps very deep indeed. ®