This article is more than 1 year old
Acer Revo One RL85: A pint-sized PC for the snug
Compact living room Core i5 put through its paces
Review Acer has produced a number of small form factor systems over recent years, and the Revo One RL85 is the latest incarnation. It's designed very much as a home PC, and comes in an upright enclosure that's about two thirds the size of a shoebox – 106.6mm square and 155mm tall – but still manages to pack a fair bit inside. Not the PSU, though; that's a small external 65 watt unit.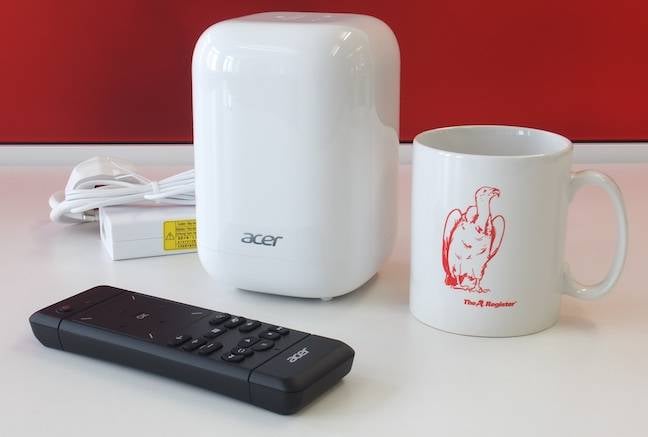 Acer's Revo One RL85 is a compact PC, aimed at the living room
In the UK, the RL85 is available in three different models, starting from £199, which gets you an Intel 1.4GHz dual-core Celeron 2957U processor, 4GB of RAM and 1TB of hard disk space. For £400 you get an i3, 4GB RAM and 2TB of disk.
At the top end – and the model tested here – is a dual-core 2.2GHz Core i5–5200U chip, with Intel HD Graphics 5500, 8GB of RAM, a 60GB SSD for the system partition, and two 2TB hard drives, which were supplied in RAID 1 mode. That will set you back a rather more substantial £650.
All the models are supplied with Windows 8.1, and if you buy one real soon now, you'll be able to reserve your copy of Windows 10 when it comes out.
It's worth noting that, despite being a new unit, there was still 1.8GB of Windows updates to install before I could really begin using ours. If you live in an area with rubbish broadband, you may want to take it to a friend's house to do the updates.
Common to each model is HDMI and DisplayPort, two USB 2 ports, two USB 3, Gigabit ethernet, built in Wi-Fi, audio out, an SD card slot on the top, and a rather ingenious chassis. Press in on a catch at the back and most of the top lifts off, bar a couple of centimetres at the bottom.
The system SSD is inside the plastic interior casing, but two other SATA drives can be clipped into holders and quickly slotted into the chassis. Anything delicate is well protected from casual prying.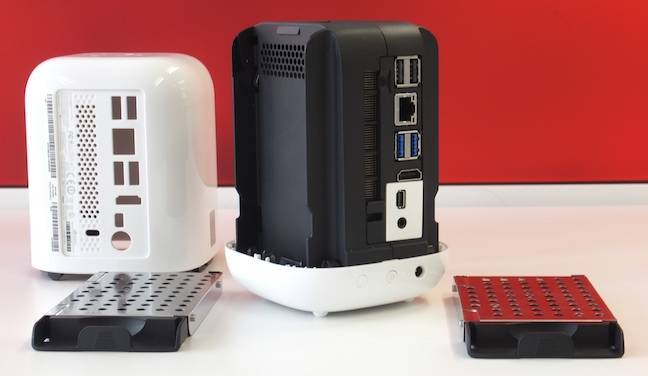 No screws here – the Revo One is easy to open
If you want to add more memory, of course, you'll have to take off that interior case too, but for drive upgrades and swaps, it's very convenient. There's also a a security lock port, which may be useful for some people. Our test unit had no keyboard or mouse supplied, but it did come with a remote control.
One side of that has a mousepad and a small selection of buttons, including volume controls. It's enough to get you through the Windows tiles and firing up something like Netflix (pre-installed) to watch TV on the big screen. Flip it over, and there's a full QWERTY keyboard, complete with numeric row, though you still need to use a 'func' button to get any punctuation at all.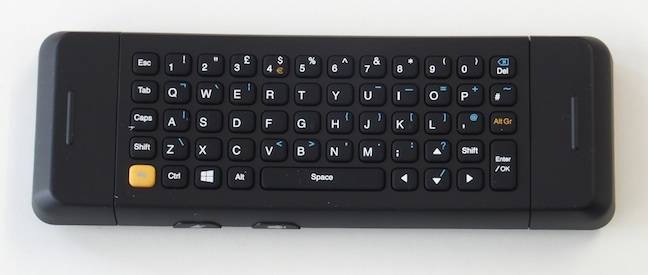 Flip the remote over, and there's a decent QWERTY layout
It's a surprisingly simply remote to use, and not as prone to false clicks as I imagined it would be; a button on the side can wake up the mouse pointer after you've been typing. One niggle though, to use it, you have to plug the supplied Bluetooth dongle into one of the USB ports. We'd rather have seen support built in.