Sneaky students parade their bulging racks for Big Iron cluster daddies
It's all about the power, kiddo. You either got it or you ain't
HPC blog This year's crop of student clusterers brought perhaps the most diverse set of equipment ever to grace a cluster competition in the modern era. We have servers with high node counts, low node counts, some with only CPUs, some with more GPUs than CPUs, and even a cluster that uses ARM CPUs.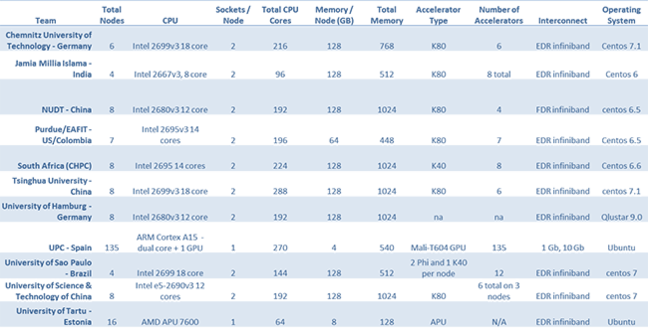 The chart above supplies all the details, so analyse to your hearts content. But here are some things that jump out at me.
Elite teams bring the power
In my mind, an "elite team" is a team that has won one or more performance awards at a major international cluster competition. In the ISC'15 competition, we're talking about South Africa, NUDT, and Tsinghua. These three teams all have one thing in common – higher than average node counts, core counts, and memory.
Tsinghua is this year's core king, with 288 Intel 2699v3 cores, with South Africa right behind them at 224 CPU cores. NUDT is sporting 192 cores. Chemnitz, Purdue/EAFIT, Hamburg, and China's USTC core counts range from 192 and 216.
On the lower end of the core counts are Team India with 96 and Team Brazil with 144.
However, Team India is bringing the heat with 8 NVIDIA K80 Tesla accelerators. Team Brazil is packing a K80 and two Intel Phi accelerators on each of their four nodes.
Teams Spain and Estonia are special cases. The Spaniards are the first team to use ARM processors in a student cluster competition with their prototype Mount Blanc sponsored system. They're driving 135 single CPU nodes, populated with dual core ARM Cortex A15 chips. Each processor also has an integrated Mali T604 GPU.
Team Estonia is using a very small form factor motherboard populated with an AMD 7600 APU. This gives them 64 CPU cores to play around with, plus some integrated GPU cores.
However, according to the team, they haven't progressed to the point where they can use the GPUs to add a lot of performance on most of the applications, thus they probably won't take advantage of them.
Stay tuned for more coverage, including team interviews, results, and full analysis. ®