The Lazarus Effect: Saved by Linux and Cash Converters
Desperate times require desperate measures
---
Going for a song
My first priority is music, and I've been using iTunes, often through gritted teeth, for a long time now. I can cope with the store I never use, the phone functionality, even the stupid Genius feature has an off button, but it's the search function that really gets on my tits. Why do I have to re-enter the criteria when switching from albums to songs? This forgetfulness suggests iTunes is showing signs of premature senility.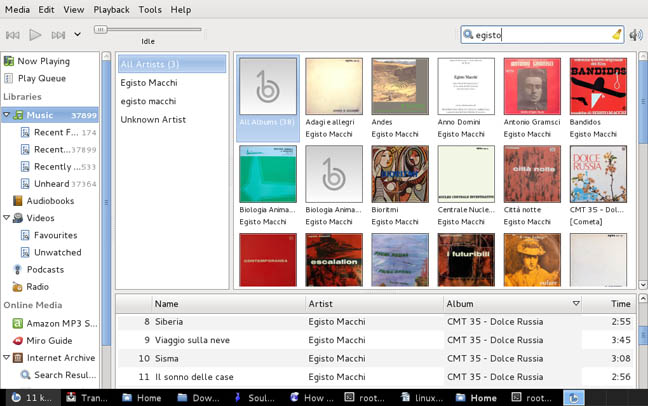 Functional rather than exceptional: Banshee music player
For music playback, the best alternative on Kali is Banshee, and while no world beater, it does a good job of importing my iTunes library and includes support for Apple outcasts such as FLAC.
When it came to my book review work, the major problem I had foreseen was the lack of Adobe Digital Editions for Linux. However, I was able to install version 1.7 by running WINE, an open source compatibility layer that enables applications designed for Microsoft Windows to run on Unix-like operating systems.
ADE 1.7 has coped fine with all of the formats I have thrown at it so far and it feeds my Kobo ereader all that it requires. However, .epub3 isn't supported, but I have yet to receive a book in that format.
The usual bunch of suspect apps work a treat: VLC, Transmission, OpenOffice, Soulseek. My somewhat pricey €130 panic investment in a five-year-old laptop is starting to feel a bit more worth it.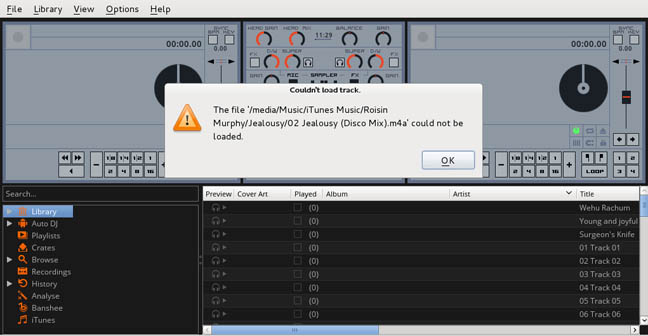 Looks the part but the Mixxx DJ app doesn't want to play nice
One unsolved dilemma: DJ software. My friend is having a party next Friday and I was hoping to do a little set. The best software is Mixxx, but m4a support is a bitch and most of my collection is Apple Lossless. I have to recompile from source, change my 'scons', which I am told is a software construction tool, but I'm sure that it's not as good as the code my grandma used to bake.
Linux involves a lot of trial and error and patience that I only occasionally possess, the weather is so nice and I have a week to exhaust all the possibilities. I haven't even tried cracking the local Wi-Fi networks, well apart from the dinosaur with WEP over the road, just to check everything functions.
My incessant fiddling eventually caused my Wi-Fi adapter to disable its monitor mode functionality. So your wannabe hacker has hacked himself hackless. We were all n00bs once, right? A reinstall is on the cards, though I'm in no great hurry.
Overall, my first non-virtual experience with Kali Linux has been a pleasure. Though if I have to make another record, I'll be breaking my iMac out of storage and shipping it over.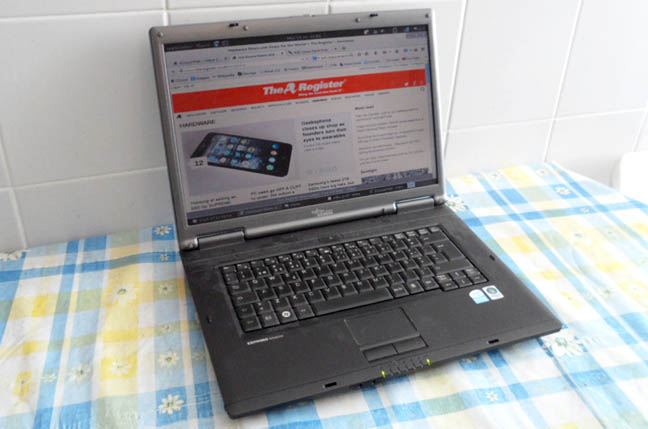 Bought out of necessity, a dodgy performer under Windows, yet revived by an OS transplant
Lean and nimble, Kali is fascinating below the surface, it can see and do stuff with Wi-Fi traffic, in particular, that other OSs can't or won't. It is an education and a challenge, and much as I miss totalling my iMac with developer previews, I can't say I'm pining too much.
On the whole, the Apple experience suits me, but it is a little like living in a gated community, far more exhilarating sometimes to mix it up on the streets, without an iWipe or a safety net. ®