This article is more than 1 year old
Happy birthday Alf Garnett, you daft, reactionary old git
Johnny Speight's Till Death Us Do Part is 50 years old
Feature It's 50 years ago this week that writer Johnny Speight leapt to fame with his creation of the bigoted conservative Cockney known as Alf Garnett, the loudmouth star of Speight's sitcom Till Death Us Do Part.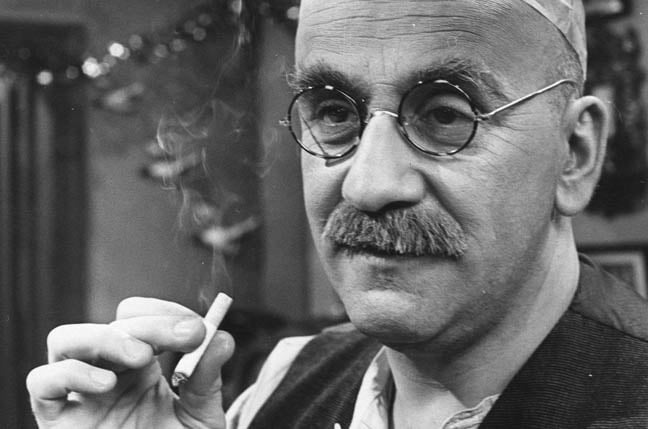 Always intended to be laughed at, Johnny Speight's confrontational comic creation was controversial from day one
The series was to spawn a staggering 18 years of mainstream television, two feature films, half a dozen different foreign versions and endless controversy. Yet that didn't stop him – Alf was remodelled in numerous territories, most notably as Archie Bunker in the US hit comedy show All in the Family.
Speight was born in Canning Town, East London on June 2 1920 and went through various day jobs – and World War Two – before trying his hand as a comic writer for radio. He struck lucky with the BBC's Great Scott, It's Maynard! which used him as a regular contributor. This led to more radio, as well as some TV work.
Within a few years he was writing for the biggest Brit comics of the day: Frankie Howerd, Arthur Askey, Eric Sykes, Morecambe & Wise, Max Wall, Arthur Haynes, Graham Stark and Marty Feldman.
But Speight's biggest splash came with Till Death Us Do Part and Alf Garnett. It was originally born of a Comedy Playhouse pilot he had written, which was broadcast on July 22 1965. The lead character was allegedly inspired by the racist and sexist characters that he had known around Canning Town as a child – ignorant know-it-alls whose arrival in late middle age had convinced them that they were right about, well, just about everything.
A typical late Sixties' Christmas episode of the show reveals how much – and how little – Britain has changed. The narrow minds are still with us, of course, but it's strange how the younger family members – Garnett's daughter Rita (played by Una Stubbs) and her husband Mike (played by Anthony Booth) – found cycling old-fashioned and ridiculous.
Jesus was English... apparently
As a life-long left-winger himself, Speight's original idea with the series was to mock the aggressive "Little Englander" rhetoric that Garnett came out with, while also trying to make the show a fairly realistic reflection of working-class London life.
For the time, and for a family sitcom, Till Death Us Do Part reflected this by being genuinely near the mark with its language. While the show's BBC producers were not, in that day and age, particularly worried about Alf's use of racist slurs like "darkie" and "coon", they were horrified at the number of times words such as "damn", "git" and "bloody" came up.
Speight often had to spend hours negotiating over this, resulting in some of the most surreal TV script meetings of all time: "We can lose two 'gits' and a 'damn' but we need to keep his 'arse' - how can he sit down without an arse?" (This real-life scene later ended up being parodied in one of Peter Cook and Dudley Moore's Not Only But Also sketches).