Spoken in jest
Till Death Us Do Part instantly made a star of jobbing TV actor Warren Mitchell, with his intense and occasionally poignant portrayal of Garnett – a hard-drinking reactionary who worked on the docks and whose wife Else, played by Royal Court veteran Dandy Nichols, was a somewhat simplistic character.
Speight, of course, had Alf labelling her a "silly cow" from episode one, but the BBC vetoed such "insulting" language and cast member Una Stubbs – a then-young Swinging London It girl – accidentally came up with the compromise "silly moo", which became one of Alf's catchphrases. The other notable insult related to Rita's "long-haired" Liverpudlian fiancé, who Garnett dubbed a "randy Scouse git" or, sometimes, "a lazy Scouse git".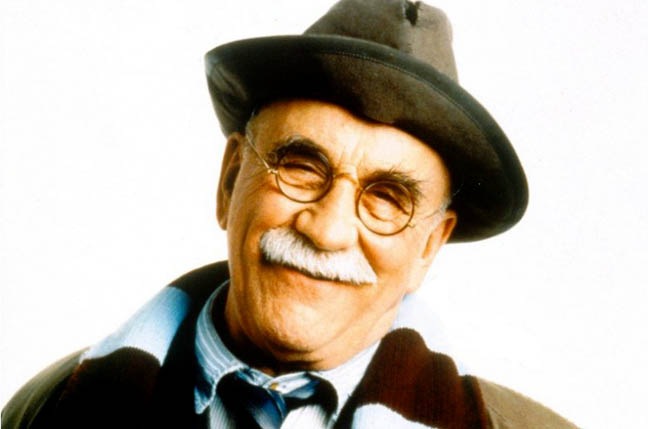 West Ham United football club's most notorious supporter
Incidentally, the lazy scouse git in real life so happened to be the father of one Cherie Booth, later to become the wife of Prime Minister Tony Blair, a git of a different order.
Despite the cries of some critics – and those who thought the language (and the Rita-Mike relationship) was too explicit – the ratings were excellent and seven series were commissioned. Having worked with some of the best, Speight wasn't afraid to borrow from them and thus 1968 saw his own take on Tony Hancock's The Blood Donor. In this episode, Alf grudgingly admitted that "everyone's a bit different", before reverting to type and demanding his blood go to a respectable folk, preferably in the royal family.
But blood and 1968 were controversial in terms of the politics of race in Britain, for it was the year of Enoch Powell's "Rivers of Blood" speech and the fuel that his words added to the growing, violent backlash against immigration and race equality laws. The same year saw mods blur into skinheads – some of whom were blatant racists who indulged in both football violence and racially motivated attacks.
Some working class authors, such as Don Hughes, have since said that the broadcasting of Alf's views – and the sympathy that Warren Mitchell sometimes brought to the part – often undermined Speight's intention of making such bigots, and such views, laughable. Merely to give a platform to such opinions was, some felt, giving the "oxygen of publicity" to racist views that were, by then, drifting out of fashion. Although such critics may have had a point, Speight can probably be forgiven for thinking that people like Alf – who believed that Germans can't use the left half of their brains – wouldn't be taken too seriously by Joe Public.
On this point, there were plenty of, er... colourful, YouTube clips available to accompany this feature and choosing a few "decent" examples was a task in itself. Times change and undoubtedly not everyone would be amused by the absurdities of Speight's fictional character.
A feature film of the series was made in 1969 and did well enough for a second movie to be commissioned less than three years later. This later film, despite having scenes of Alf half-naked and on LSD, flopped at the box office. Alf's views on drugs and politics were, of course, somewhat right-leaning, which made him later turn his ire from immigrants to the trade unions. Seeing reds under every bed, in his mind it was all connected with communism and prisons. Which led him to an amazing conclusion about democracy:
Alf's views on British celebs were similarly bizarre, with Ronnie Corbett's diminutive stature being a cause of some concern in the Garnett's East-End household: "He might not be that small in real life, it might be trick shoes or something."
But after ten years of Till Death Us Do Part – and with his even harder-hitting Curry and Chips pulled by the IBA after a matter of weeks in 1969 – Speight was forced to move on.