Alf Wiedersehen
With Dandy Nichols' illness keeping her out of the cast – and with Britain in a very different place to where it had been in the mid-Sixties – audience numbers started to fall. In 1975 the BBC cancelled a planned eighth series. Another factor may have been the appearance of the National Front, a far-right party that got close to 20 per cent of the vote in some council elections and by-elections during the period.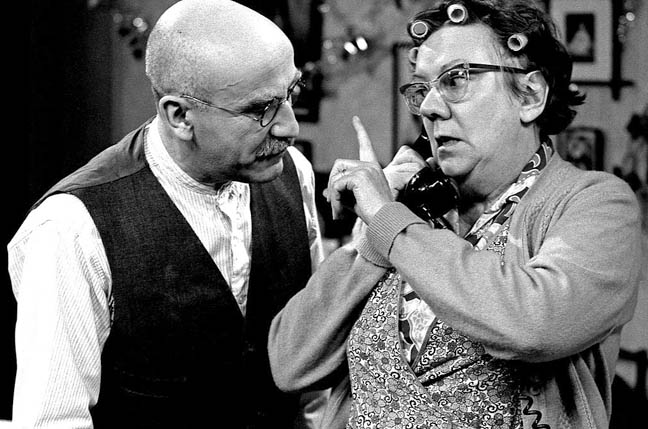 Working class heroes? Alf and Else Garnett (aka Warren Mitchell and Dandy Nichols) from the Comedy Playhouse pilot. Source: BBC
By then, though, Speight's concept had succeeded beyond his wildest dreams, with foreign versions running in the Netherlands (In Voor En Tegenspoed), West Germany (Ein Herz und Eine Seele), the USA (All In The Family) and across Latin America.
The end of the 1970s saw Speight still keeping very active – helping to launch Mike Reid and collaborating with Hancock veteran Ray Galton to create the long-running police sitcom Spooner's Patch. Strangely enough, he also met up with Malcolm McLaren to discuss the possibility of writing a screenplay for the Sex Pistols. Alas, this project, like a few others of Speight's at this time, fell through.
He did manage to get For Richer… For Poorer made and broadcast, which starred Steptoe and Son's Harry H Corbett as a kind of left-wing Alf Garnett, but the show wasn't his best work and the critics were divided. The pilot remained a one-off.
But after a few years away people really did want the real Alf back and thus an ITV one-off called The Thoughts of Chairman Alf was commissioned and shown. Garnett was a bit more loveable by then and was beginning to become something of an idiotic national treasure.
This, and similar shows, prompted a new Till Death Us Do Part series – again for ITV – although it did return to the BBC in 1985 as In Sickness and in Health, with Else wheelchair-bound.
After doing a few special shows for Jasper Carrott – and Warren Mitchell/Alf Garnett – Speight began to work less and less, although he was still writing when he was diagnosed with pancreatic cancer in the late 1990s. He died in 1998, leaving behind the eternal mind – or eternal mindlessness – of one Alfred Edward Garnett, the perfect idiot (anti)hero for times past. ®