This article is more than 1 year old
Don't suit up: Microsoft drops dress code for Android visitors
It seems Astoria will allow Windows 10 to run unmodified droid binaries
Windows will run Android binaries "unchanged", according to a Microsoft job posting.
"Project Astoria" is one of several ambitious ventures announced at Microsoft's annual developer conference Build 2015, intended to lure iOS, Android, and web developers to Windows 10. All were intended to make porting to Windows easy.
New tools would allow Windows to be added to the developers' list of build targets with as few code changes as possible – and the project covered the Android part of the proposition. Requests for Google services would be cunningly diverted to Microsoft services.
However, it seems to have morphed into something more ambitious: the "suicide note" fans feared back in the spring. According to a job posting for a software developer at Redmond, Astoria will allow Windows 10 to run unmodified Android binaries.
A job posting spotted by a Windows blog for new recruits to the team at Microsoft claims that the Astoria bridge "enables Android developers to publish their unchanged binary to run as they are on the Windows mobile platform."
If that's correct, then it increases the likelihood of Android apps running on Windows, which today lags far behind iOS and Android in terms of the quantity and quality of native applications.
But an apps-at-any-cost tactic has dangers for Microsoft, as developers would have no incentive to develop functionality for Microsoft services such as Cortana or One Drive.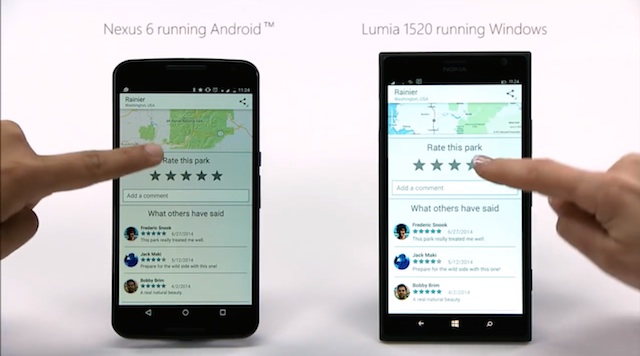 Project Astoria: makes your screen brighter than regular Android
Source: Microsoft
Microsoft would also run into a problem that BlackBerry BB10 users will know: the absence of proprietary Google libraries (GMS, or Google Mobile Services) on the device can cause compatibility issues.
Google devised strict qualification hurdles for ODMs bundling GMS to avoid Android fragmentation. Apps running on platforms that attempt clever emulation tricks can only go so far. And Android developers are being lured ever closer to GMS, with Lollipop adding 5,000 new API calls.
It's conceivable that one day, the platform advantage held by Apple and Google may diminish: Amazon has offered developers app streaming out of the EC2 cloud for some 18 months now.
However, despite the potential and the obvious advantages to developers (write once, and not for multiple platforms), widespread adoption of app streaming is some way off yet. ®