Ballmer's billion-dollar blunders: When he gambled Microsoft's money and lost
Nokia is the biggest write-off yet, but it wasn't the first
Analysis Less than two years into Satya Nadella's tenure as CEO of Microsoft, he's already had to report a lossmaking quarter. It's only the second time that's happened in the software giant's three decades as a public company, and the $8.44bn write-off Redmond posted earlier this week is the largest in its history.
Don't blame Nadella, though. He's just the janitor. The mess he's been forced to clean up was left for him by his predecessor, Steve Ballmer.
In this case, the source of the red ink was Ballmer's crash-and-burn acquisition of Nokia's phone business, which seemingly has now cost Microsoft more than it originally paid for it. It's emerging as the single most disastrous event in all of Microsoft's history. It was such a contentious move, in fact, that it reportedly destroyed Ballmer's friendship with his old college buddy, Bill Gates.
But this wasn't the first time one of Ballmer's plans cost Microsoft some serious coin. In fact, on several occasions during his tenure he bet big on the wrong idea when he probably should have known better, ultimately costing the company millions or even billions in the process.
While it's true that Ballmer's 14 years in the corner office left Microsoft a more profitable and more valuable company than when he first became chief exec, his legacy also includes a series of bad gambles that didn't pay off. Here we remember a few of the biggest ones – and time will tell whether Nadella can avoid similar mistakes.
1. Nokia
It's worth revisiting this one, because it's a doozy. Microsoft paid $7.1bn to gobble Nokia's former Devices and Services business in April 2014. Less than a year and a half later, it would write down $8.44bn in a single quarter, with almost all of the charges related to the Nokia deal.
That wasn't all, though. Just three months after the deal closed, Nadella announced 18,000 layoffs, again with most of the cuts coming from the former Nokia division. That move cost Microsoft $1.57bn in restructuring costs over the next three quarters, bringing the total losses related to the acquisition to $10.01bn.
We're not done yet, though. Even before Microsoft agreed to take the phone business off Nokia's hands, Ballmer was seemingly convinced that he could make the Finnish firm into Redmond's own pet smartphone franchise while keeping it as an independent company.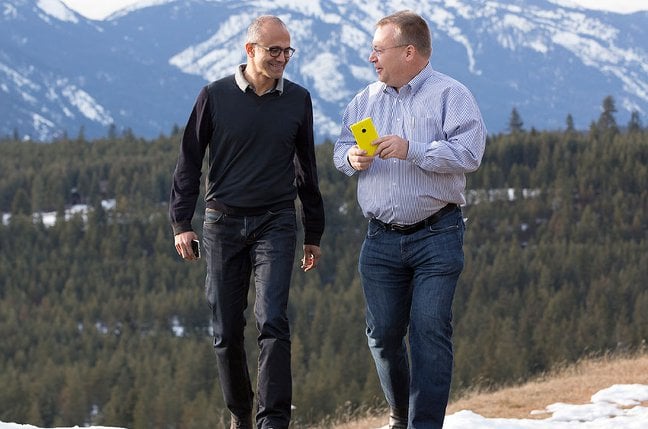 Best buddies? Nadella showed former Nokia CEO Stephen Elop the door in June
In 2011, Microsoft paid Nokia $1bn to drop Symbian and make Windows Phone its exclusive smartphone OS. Given that Redmond would buy the moribund business outright just three years later, one could easily argue that the billion-dollar investment yielded zero return.
All told, Ballmer's smartphone misadventure looks to have cost Microsoft more than HP spent on its botched acquisition of Autonomy – and that's saying something.
2. aQuantive
Nokia wasn't Ballmer's first duff deal, though. Microsoft has only posted a quarterly loss one other time, and that was when it wrote off costs related to its $6.3bn buyout of online advertising firm aQuantive.
Ballmer snapped up the ad outfit in 2007, with the assumption that it would get Microsoft an oar into the ad-revenue river that has floated Google's boat so nicely over the years.
It was partly a defensive move. Google had just bought ad-delivery network DoubleClick for $3.1bn, and Ballmer fretted that his Mountain View rival was gaining too much momentum in a market that had never provided much revenue for Microsoft.
As it turned out, buying aQuantive didn't change that. Over the next five years, far from making Microsoft an "advertising company," as Ballmer promised, the gobble delivered little return. Former aQuantive CEO Brian McAndrews quit a year after the deal closed, and ex-aQuantive employees complained of being marginalized.
In July 2012, Ballmer admitted defeat, and Microsoft wrote down $6.2bn of the ads business – virtually every penny it paid for it. The result was a quarterly net loss of $492m, where previously Redmond had been expected to report a profit.
3. Online Services
The aQuantive debacle was such a high-profile misstep, though, that it distracted from other losses going on right in its own backyard.
After acquiring aQuantive, Microsoft folded it into its Online Services reporting segment. That was fitting in two senses: First, because aQuantive's business was online advertising; and second, because nobody else in Online Services was making any money, either.
Online Services grew out of Redmond's MSN business and would eventually include the Bing search engine, Hotmail, maps, and various other efforts designed to make it look like Microsoft was competing head-to-head with Google. Problem was, while Google was raking in money for its efforts, Microsoft was spending it while it played catch-up.
Over the course of its lifetime, Online Services posted an average net operating loss of nearly $1.5bn per year. That's eight years of operation for a total cost of $11.78bn.
And the thing is, Ballmer never actually pulled the plug. Instead, when he got tired of analysts pointing out how much the segment was costing Redmond each quarter, he changed Microsoft's reporting structure. The business units that were under the Online Services umbrella are now scattered among several of the software giant's new segments, so their performance is no longer as visible. For all we know, they're still burning through cash.