This article is more than 1 year old
Five data centres you can't live without
The Register zooms in to where the Web giants are
Ever wondered what happened after you clicked on 'Like' or did a search on Google? Well wonder no more because here's five data centres that run your life.
1. Google Dublin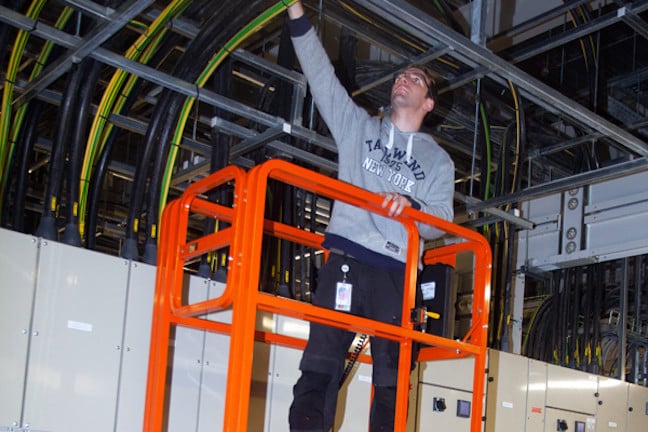 John Wiltshire, Data Center Operations technician in Google, Dublin
When you do a search on google or send a Gmail, chances are it will end up in Google's Dublin data centre. The data centre sits in a converted warehouse on an industrial estate in Dublin. The conversion cost Google €75m and took a little over a year and the expertise and skills of more than 1,000 people in 90 specialist building and engineering companies. The facility has been in operation since September 2012 and uses an air-cooling system that takes advantage of Ireland's cool climate and doesn't require any costly and power-hungry air-conditioning units.
Google also utilises a neural network to continuously tweak data centre efficiency and to learn which combination of settings gets the best PUE (power usage effectiveness) for a particular type of server load. By utilising the neural network the company has reduced cooling and power conversion overheads to just 12 per cent of total energy usage - a typical data centre will use as much on cooling and conversion as it does on powering the servers -and to get their PUE down from 1.22 to 1.12 over five years.
Additionally Google builds its own servers, which are designed to be "energy proportional" so when idle they use little power, and as the server is utilised more, the power rises accordingly. This and a few other design tweaks - servers run at temperatures around 26C and higher - enables Google to accurately estimate power usage and cooling saving around 500 kWh per server per year - or 25 per cent -over a typical system.
2. Facebook
If you're a Facebook user in the UK your data will be stored in the Facebook data centre in Luleå, Sweden. It's one of the most efficient and sustainable data centres in the world and was the first Facebook data centre to open outside of the US.
All the equipment inside the data centres is powered by 100 per cent renewable energy (locally generated hydro-electric energy), and nearly all the technology in the 320,000 square feet facility, from the Facebook-designed and built servers to the power distribution systems, is based on Open Compute Project designs and is available to anyone wanting to design a data centre using the same technologies.
The data centre uses free-air cooling to maintain the servers at working temperatures of around 18-29C. This means they don't need chillers to cool the servers but instead use purified and humidified air from outside – and this is generally very cold as Luleå is just 68 miles below the Arctic Circle. The use of free-air cooling allows Facebook to use 38 per cent less energy on cooling than a conventional data centre.
3. iCloud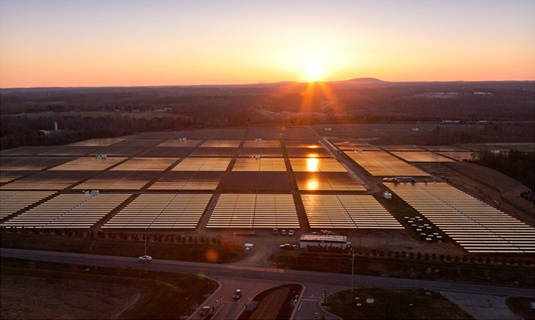 Back in 2011 Apple decided to show its commitment to the cloud, and so at the very end of his keynote address at Apple's WorldWide Developers Conference Apple CEO Steve Jobs flashed up some photos of the exterior and interior of a $1bn data centre in Maiden, North Carolina. It is here that your selfies mix digits with those of Hollywood celebs and it's truly massive. The plant covers 500,000 square feet and like all of Apple's data centres it uses 100 per cent renewable power to supply the facility. On any given day, between 60 and 100 percent of the energy it uses is generated onsite through biogas fuel cells and two 20-megawatt solar arrays—the US's largest privately owned renewable energy installation.
However unlike most data centres Maiden actually produces power. A solar array on-site generates 167 million kilo watt hours of renewable energy per year, enough to power the 12,700 homes, and they're currently completing a second 17‑megawatt solar array, capable of producing a further 39 million kilowatt-hours per year.
4. Amazon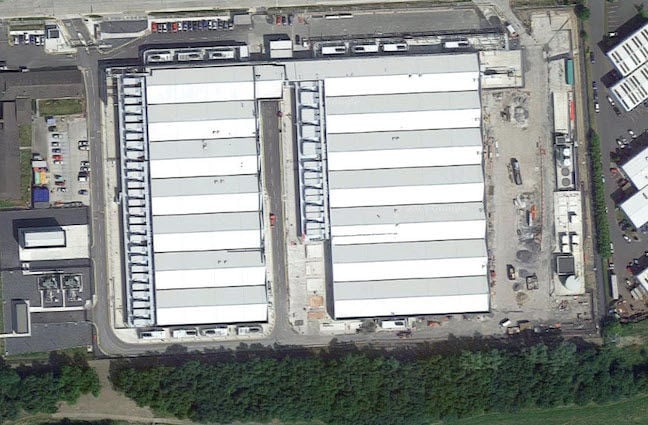 Ok, we think this is Amazon Dublin, facility one
When you click 'buy' on your Amazon purchase, or you book a room on Airbnb, download a new version of Angry Birds, or watch a film on Netflix then a server will start whirring in one of Amazon's data centres in Dublin.
Amazon's own ecommerce systems and practically every cloud-service uses Amazon Web Services (AWS) data centres and its data centres are one of the best kept secrets. According to Netcraft Amazon has been the world's largest web hosting company since September 2012 and has more than twice as many web-facing computers as its nearest rival.
To make sure that Amazon and the businesses' that rely on AWS never go down Amazon has invented the concept of 'Availability Zones'. A zone is two or more data centres located close to each other – but not too close to each other - that mirror data, so that in the unlikely event that one goes down there's a spare 240,000 square feet data centre immediately on hand.
The location of the Dublin centres are supposedly secret, all we know is that they're on either side of the city 11 miles away from each other and are connected via fibre optic cables.
5.Twitter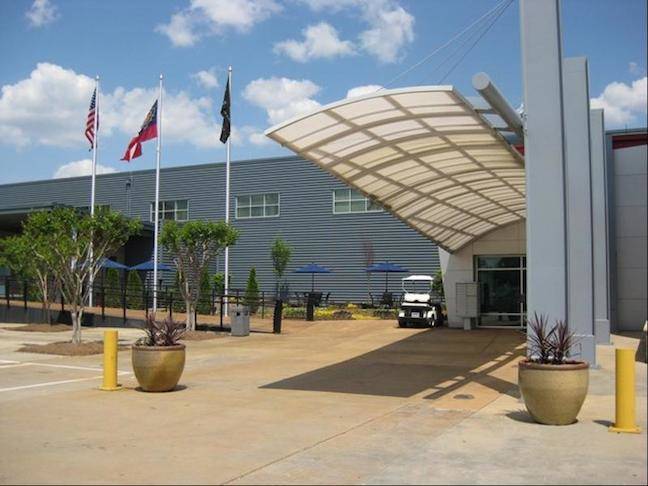 Twitter has over 300 million monthly users around the globe sending over 500 million tweets a day, so they must a massive data centre with a big blue bird on the front somewhere surely? Wrong, unlike its social media contemporaries Facebook and Google, Twitter doesn't have its own data centres and instead chooses to lease space from others.
Your tweets currently sit in a data centre in Atlanta run by Quality Technology Services (QTS) and the scale of the site is enormous. The almost one million square feet data centre is currently the fourth or fifth largest data centre in the world, according to Forbes, and covers an area equivalent to 17 football pitches.
The data centre features its own 80 megawatts on-site power substation, backed up by 40 generators supporting 19 independent UPS systems. Cooling comes from over 600 air conditioning units and security is provided by a system of over 140 CCTV cameras in and around the building. ®