This article is more than 1 year old
Hawking, Musk, Woz (and others): Robots will kill us all
'Kalashnikovs of tomorrow' - Yikes
Opinion Notables of the technology world including physicist Stephen Hawking, biz baron Elon Musk and techno-hippy Steve Wozniak have teamed up to warn us all about the menace of killer robots.
In an open letter and petition, the distinguished trio and their co-signatories warn:
Autonomous weapons select and engage targets without human intervention. They might include, for example, armed quadcopters that can search for and eliminate people meeting certain pre-defined criteria, but do not include cruise missiles or remotely piloted drones for which humans make all targeting decisions ... autonomous weapons have been described as the third revolution in warfare, after gunpowder and nuclear arms ...

If any major military power pushes ahead with AI weapon development, a global arms race is virtually inevitable, and the endpoint of this technological trajectory is obvious: autonomous weapons will become the Kalashnikovs of tomorrow. Unlike nuclear weapons, they require no costly or hard-to-obtain raw materials, so they will become ubiquitous and cheap for all significant military powers to mass-produce. It will only be a matter of time until they appear on the black market and in the hands of terrorists, dictators wishing to better control their populace, warlords wishing to perpetrate ethnic cleansing, etc. Autonomous weapons are ideal for tasks such as assassinations, destabilizing nations, subduing populations and selectively killing a particular ethnic group.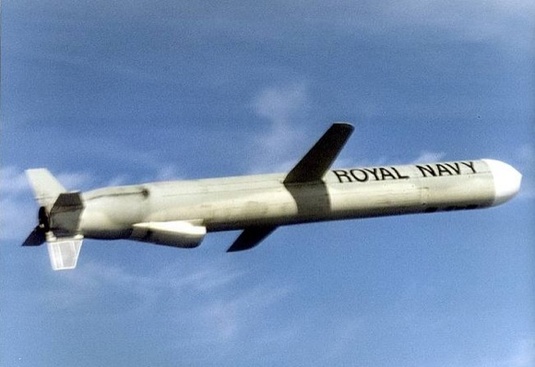 Oh noes! An autonomous weapon! Which went into service in the 1980s!
The signatories already include eminent physicist Hawking, renowned early Appler Woz, and tech visionary Musk - who has various trendy green businesses such as Tesla and SolarCity, but is better known as chief of applecart-busting rocket firm SpaceX. There are also many on the list from the worlds of academic AI research, and various names from outside the field.
Probably the most famous non-techy name is that of actress Talulah Riley, noted for her turns in Inception (as attractive imaginary minx "Blonde Woman") and the recent St Trinian's reboot (as saucy schoolgirl minx "Annabelle Fritton"). A clue regarding her appearance as the sole representative of the luvvie world on the list may lie in the fact that she has been married to Musk twice, and they are said to be on good terms despite having got divorced for the second time last year.
Comment
As we've pointed out on these pages before, the trendy ongoing campaign to stop the autonomous weapons before they get built is too late: they have been in service for decades. The signatories fondly believe that cruise missiles - which are simply robot aircraft, usually turbojet planes rather than quadcopters, but aircraft for all that - are under human control when selecting a target, but they aren't.
A cruise missile, such as a standard Tomahawk or Stormshadow/Scalp, is autonomous from the moment it is launched. It flies to a location where its target is thought to be, but it does not simply crash on that location: it takes a digital picture at the scene and decides whether something that looks like a legitimate target is in the picture.
If the missile's software decides there is such a something, the target is struck - and one Tomahawk, equipped with many canisters of munitions which can be deployed separately, can attack multiple targets at different locations.
The Tomahawk is also being upgraded to strike moving targets, which - as with stationary targets today - it will identify as being legitimate targets on its own. It has always had to be able to choose its targets autonomously, as it will typically be up to 1,000 miles from its launcher and out of contact with the humans who fired it.