This article is more than 1 year old
If Microsoft made laptops, it'd make this: HP Spectre x360
Neat-looking convertible - not spectacular but does the business
Review What happens when you lock a group of product engineers from a major PC manufacturer and a team software developers from a separate company together in a room? HP's Spectre x360 does. It's the result of some serious conversations between the lads and lasses at Hewlett-Packard and Microsoft; put simply, if Microsoft made a Surface laptop, it would be a lot like this.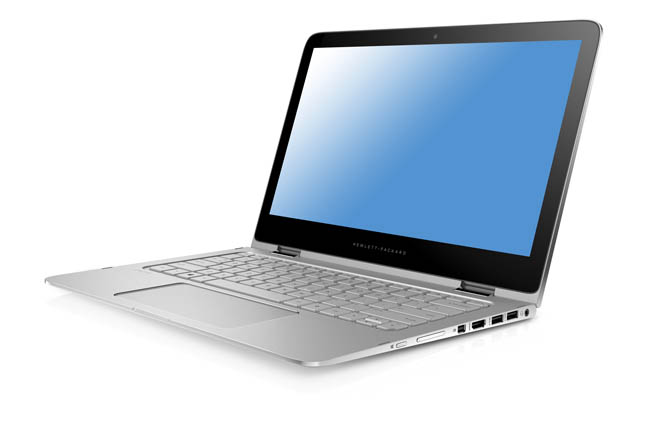 Laptop of choice for Bond villains: HP's Spectre x360
The Spectre comes in two flavours. For £1,099 you can have a Core i7 machine with a 2560 x 1440 display, while for two hundred quid less you can have the Core i5 version with a 1920 x 1080 screen.
For your nine hundred nicker you are still getting a reasonably powerful and very stylish machine. From a purely aesthetic standpoint, this is one of the more impressive machines you can pick up for less than a grand.
That's largely down to the unibody aluminium base and somewhat MacBook Air-esque styling. I'm not suggesting it's a direct copy of the Apple machine but several people, on seeing the Spectre on my desk, commented that I don't usually write about Apple kit. Enough said. The all-silver livery, polished edges and absence of unsightly stickers (other than a silver Intel sticker) add to the impression of quality.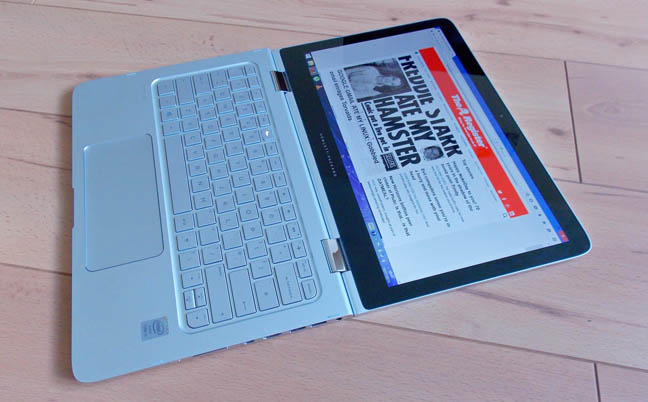 Full HD touchscreen or you can opt for a HiDPI version on the Core i7 model
Weighing in at 1.51kg and measuring up at 325 x 218 x 16mm the HP is rather heavier and more bulky than Apple's 13-inch envelope-filler but a side effect of that is that it feels very solid and there is room for a decent array of connections and a sizeable battery.
The Spectre has three USB 3.0 ports, a full-sized HDMI socket, a Mini DisplayPort and a full-depth SD card slot as well as the expected 3.5mm in/out audio jack. HP has also made space for a three cell 56Wh battery, which I'll come back to. If an ethernet port is a priority HP will sell you a USB adapter for £28. Personally, I think they should have bundled one gratis but such are the times we live in.
The 360 moniker is the clue that the Spectre is one of those Lenovo Yoga-type machines that you can fold back to make a tablet or prop up into what's generally called stand and tent modes. There's not much new in that as a concept but the hinge design (described by HP as one that "folds back into itself") is rather clever.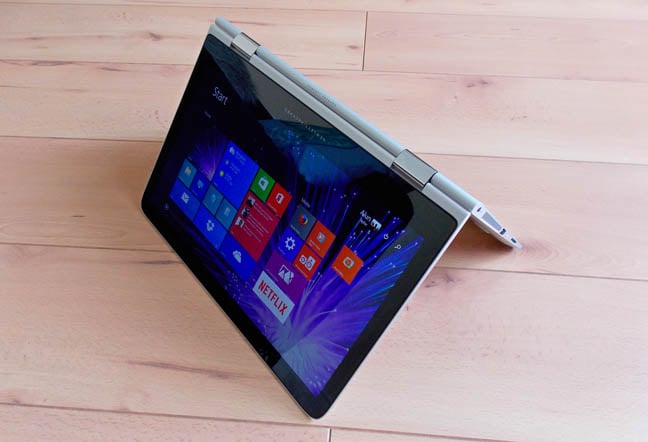 Tent mode
Thanks to the shape of the hinge and the set of three spiral gears it uses, there's no bulge in the action: fold the screen right back into tablet mode and the profile of the device at the hinge is exactly the same as it is when folded shut, laptop-style. The hinge also reduces screen spring, that annoying habit some convertible lids have of bouncing slightly when you touch them. The Spectre's screen hinge feels more solid, much like that of a conventional laptop.