This article is more than 1 year old
We put Windows 10 on a small fondleslab: STILL not ready, 3 days to go
How quickly can Microsoft patch the bugs?
With Windows 10 now just days away, we thought we'd put it on a small slablet of the sort you can pick up cheaply and see how it did - in this case a Linx 8. In short, it did not do well.
These devices have a 1280 x 800 8" display and just 1GB of RAM. They also have 32GB of storage, of which 5GB is taken up by a recovery partition. The Windows 10 upgrade process needs around 6GB of free space and freeing up the necessary space can be a challenge.
Initial upgrade attempts failed with an uninformative error message stating "Something happened. Windows 10 installation failed."
Success came after freeing more space and choosing a "Keep nothing" upgrade; in effect a clean install. It is still worth performing an upgrade as this gets you a license to Windows 10. The Linx 8 ships with Windows with Bing, which becomes Windows 10 Home, 32-bit edition. I used Windows 10 build 10240, which is rumoured to be the RTM (Release to Manufacturing) version, though this has not been officially confirmed. Note that Windows setup itself downloads updates, so some issues may be fixed by release day. Following the upgrade, I needed to install the Linx drivers manually to restore functionality such as the Windows key and accelerometer.
On a device with a small screen, Windows 10 defaults to tablet mode, making it a distinctive experience. In tablet mode, all apps run full screen, including the Start menu which looks reminiscent of Windows 8. The similarity is deceptive, since Windows 10 has a substantially different design.
From the user's perspective, Windows 8 has two environments, desktop and tablet (or "Metro"), whereas Windows 10 has a single environment with two types of apps, desktop and Universal. Universal apps are delivered from the Windows Store and use the next generation of the Windows Runtime, an application platform introduced in Windows 8.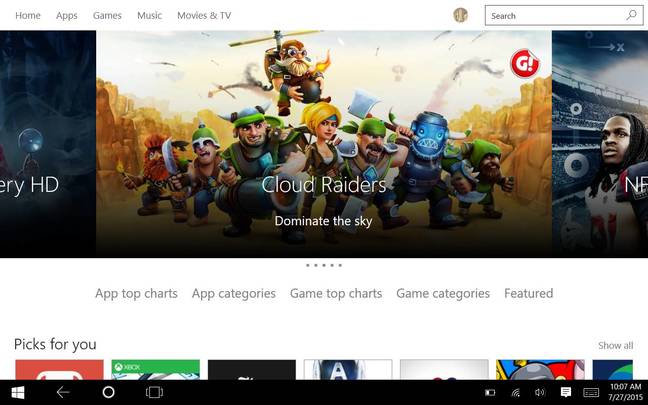 The Windows Store
The initial experience was not encouraging. The biggest problem was the Store app, which would quit immediately on opening, making it impossible to install other apps. There was no error message or invitation to inform Microsoft; it would exit in a puff, which apparently is recommended for Store apps: "The disappearance of the app should make it clear to the user that something went wrong."
Mysteriously, this issue fixed itself after an hour or two.
Another problem was the inability to find apps by searching the Start menu. I would type the name of an app, and it would come back with internet hits but not the app that I wanted. The reason for this, apparently, is that Windows search was still indexing, and a message "We're getting search ready" appeared above the results. How it can take several hours to index fewer than 100 Start menu apps is another Microsoft mystery, but this also improved.
Will world+dog get a smooth upgrade experience on July 29th? It looks unlikely.