Much improved over Windows 8
Overall, Windows 10 delivers a much improved experience on a small tablet than Windows 8 ever managed. A large factor in this is the built-in apps, including the Edge browser, Mail, calendar, maps, Groove music (which lets you play music stored on OneDrive), and other first-party apps including Office Mobile, OneNote and Fresh Paint (a delightful touch-driven painting application). Windows utilities such as Calculator, Voice Recorder and Alarms and Clocks are now Universal apps, making them a pleasure to use on a tablet like this.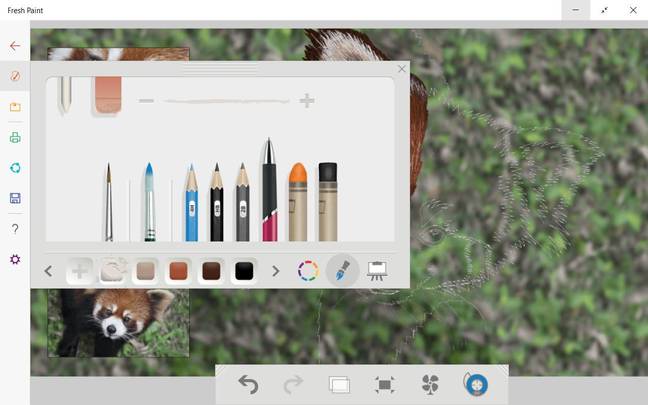 Fresh Paint for Windows
The Skype team must be called out for its failure to play in this new world. The Store App version of Skype has been withdrawn, and the desktop application makes few concessions to touch users, with classic desktop menus that are difficult to use. In-app advertising adds to the poor impression. You would not guess that Skype belongs to Microsoft.
Still, if you add in the ability to run most desktop applications including your custom applications and favourite PC utilities, you end up with a capable device that distinctively combines productivity and media consumption, while also providing a familiar experience for long-time Windows uses.
Unfortunately, that familiar experience also includes bugs and unexpected behaviour. Signing out of the device often causes it to hang. In Mail I had problems syncing with Exchange, partly due to using a self-signed certificate. It was a frustrating experience because it worked, then did not work, then after fiddling started working again – but for who knows how long?
The OneDrive implementation is poor, and every time I play a OneDrive track in Groove, I get a sync error because it creates a Music folder that already exists. I have lost count of how many apps closed without warning. This is a low-end device and build 10240 is better (though not perfect) on a more powerful PC, but some of the problems look like defects in Windows 10 or the built-in apps.
If this were three months before release, I would call it most promising. As it is, caution is advised. Microsoft is still scrambling to fix issues and there is no harm in waiting for a few months.
Windows 10 on a small tablet is great and frustrating in equal parts. It is unlikely ever to match an iPad for smooth operation and design consistency, but unlike an iPad this is a complete PC and in some ways more capable. When typing into Word Mobile, using a Bluetooth keyboard while connected to a large display, it felt like a terrific bargain. The killer feature is the price; it is feature-rich out of the box, especially when you add Office Mobile.
If it fixes the bugs in time, Microsoft will have a winner. ®
Similar topics