This article is more than 1 year old
At last we know for sure. Blighty's 'best mobile network' is ...
We'll give you a clue. It's not O2, Vodafone, or Three
The biannual survey of mobile networks conducted by RootMetrics has found that EE still leads the pack, and provides the best mobile phone coverage.
RootMetrics' report said that "EE earned a clean sweep of all six UK RootScore awards including Overall Performance, Network Reliability, Network Speed, Mobile Internet, Call, and Text."
EE's biggest challenger was Three, according to the report: "Three was a strong performer at the UK level, earning second-place finishes in five of six categories and coming in just behind EE in reliability."
RootMetrics has a system of setting standards for each of the parameters it measures, then looking at how the networks perform in comparison with those parameters, and rating them against each other.
An example of how this works is that RootMetrics claims that if only one in 50 calls drops, that's acceptable.
It then looks at in how many cities the networks meet that measure; the network which covers the fewest cities with unacceptable scores is the winner on that parameter.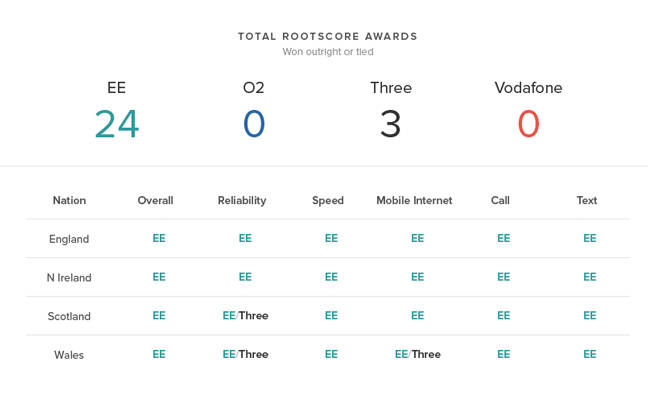 The problem is that too few networks fail to meet the set standard, so all the numbers of failures are pretty low. That makes drawing a distinction very difficult.
It could be argued that all the UK's mobile networks are doing very well, and indeed that's what the RootMetrics guys say.
The networks have committed to reaching 90 per cent coverage of the UK landmass by 2017, but Chris Smith, RootMetrics' European general manager told us that the methodology used for this test isn't suitable for determining how close the networks are to this goal.