This article is more than 1 year old
Speed freak: Kingston HyperX Predator 480GB PCIe SSD
Flash vendor's fastest drive ever
Review If evidence from last/early this year's large technology shows is anything to go by, then 2015 might just be the year that consumer PCIe SSD market begins stirring – something that's long overdue.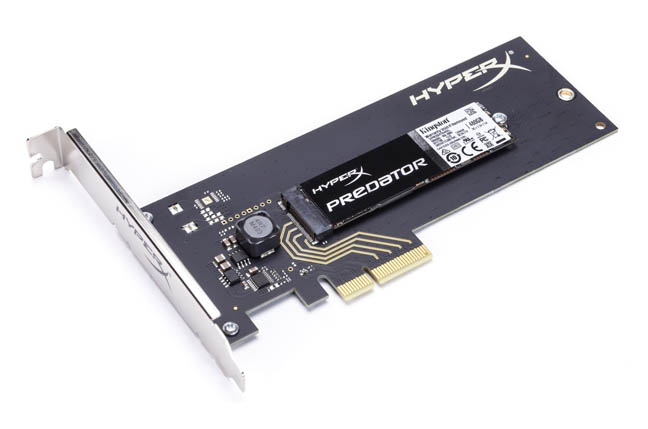 Kingston's HyperX Predator, the company's fastest SSD to date
PCIe-based drives, even for the consumer side of things, have been around for a number of years but prices have always been at a premium, as there were so few manufacturers bothering with them.
Hopefully, that's a thing of the past with the competition hotting up, and one of the first over the parapet into this brave new world is Kingston with the HyperX Predator.
At the time of writing, Kingston offers the HyperX Predator in two capacities, 240GB and 480GB (although there is a 960GB drive rumoured to be in the offing) and in two formats.

Sold without the adapter if you prefer
You can buy the drive on its own as a M.2 2280 drive – handy if your motherboard has an x4 PCIe M.2 port – or in a HHHL (Half-Height, Half Length) adapter, to slip into a x4 PCIe 2.0 slot on the motherboard. It's the latter format that I'm reviewing.
The drive uses the latest Marvell Altaplus 88SS9293 PCIe x4 controller which is AHCI-based and only supports PCIe Gen 2.0. This looks after eight 64GB packages (four per side of the PCB) of Toshiba A19 Toggle NAND. I know what you're thinking, that makes 512GB, so where's the rest gone? Well, the remaining 32GB is used for over-provisioning and maintenance operations. The cache is made up of a pair of 512MB DDR3LP-1600 chips.