This article is more than 1 year old
Speed freak: Kingston HyperX Predator 480GB PCIe SSD
Flash vendor's fastest drive ever
Generation game
The benefits of using the PCIe bus can be nicely summed up by comparing the performance of the HyperX Predator with Kingston's latest and fastest (to date) SATA drive, the Savage we reviewed recently.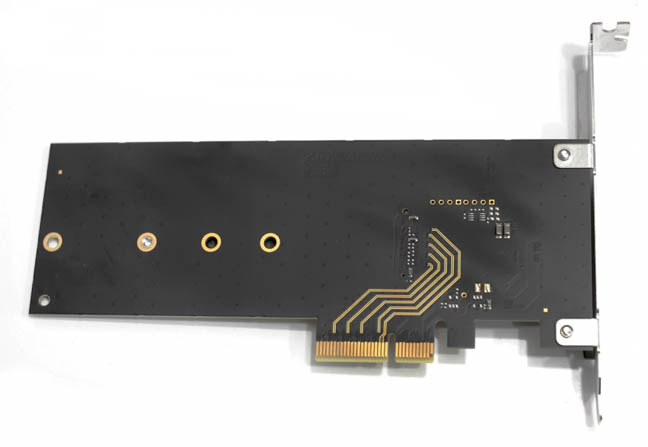 Not much to it but the adapter will allow many to get their systems steaming
Although the Predator is significantly faster than the standard SATA drive it is, believe it or not, hampered by the fact it uses a PCIe Gen 2.0 x4 interface, instead of the much faster Gen 3.0 and, of course, it's still an AHCI drive and not NVMe.
On the other hand, it does mean that with the HHHL version you can stick it in most motherboards and it will work.
Kingston quotes sequential performance figures for the 480GB drive as 1.4GB/s reads and 1GB/s writes, which is pretty much borne out by the ATTO benchmark which gave reads at 1.42GB/s and writes at 945MB/s, a little down from the official figures. But even so, it still trounces the Savage's figures of 565MB/s and 542MB/s for read and writes respectively.

CrystalDiskMark results for default (left) and compressible data (right)

AS SSD results (left) and ATTO (right) – click for a larger image
Its 4K read performance isn't as strong, but the 4K writes are pretty good. The Marvell controller doesn't seem to have much of a preference on the type of data it's looking after as can be seen by the compressed data benchmark in CrystalDiskMark, which closely matches the default benchmark scores.
The quoted endurance for the drive is very impressive at 882TB (TBW) but still Kingston backs the drive with just a measly three-year warranty.
Maybe it figures we'll all be using multi-terabyte SSDs in a couple of years and few would need longer on drives that are destined to become redundant.
The Reg Verdict
Hopefully, this is the beginning of some serious competition entering the PCIe drive market. Although it won't happen overnight, maybe this time the market segment will start to get as competitive as the 2.5in SSD market.
The HyperX Predator is Kingston's first shot at making a PCIe M.2 drive and, as a first shot, it's pretty impressive. It certainly shows the advantage of using the PCIe bus as an alternative to the SATA interface when compared with the recently released Savage SATA drive.
Hopefully, Kingston can be persuaded to up the ante by eventually bringing out a PCIe x4 Gen 3.0 NVMe version. ®

Speed freak: Kingston HyperX Predator 480GB PCIe SSD
Price:
£380 (480GB SSD only), £390 (480GB with HHHL adapter) RRP