Windows as a service
This release of Windows is the beginning of "Windows as a service," according to Microsoft. This means that Microsoft wants to manage your operating system, updating it with both new features and security patches as it sees fit, in the same way that Google updates Chromebooks. There may or may not be a Windows 11, but the company has said that once a PC is licensed for Windows 10, future updates will be free for the lifetime of the device. It does not mean that Windows is now a subscription service.
How much control you have over updates depends on what version of Windows you have, and whether it is in a managed business environment. Users of Windows Home agree to get updates automatically, but can choose between automatic or manual restarts when needed. There is also an option for peer-to-peer update delivery, either restricted to the local network or from any PC (the default).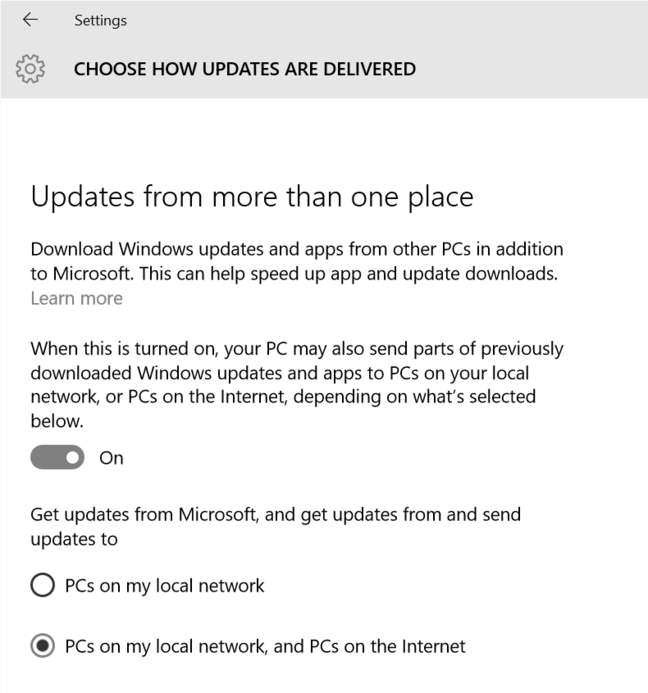 Peer to peer updates by default in Windows 10
Windows updates can still be managed in a business environment using tools like WSUS (Windows Server Update Services), for users of the Professional or Enterprise editions. That said, Microsoft will not support every possible variant of Windows 10, as it changes over time, but only versions from the last so many months – said to be 8 months. After that time, you can restrict updates, but might not get security patches.
The solution for update-averse businesses is to opt for the Enterprise edition and to select a special version called Long Term Servicing Branch. These editions are feature-frozen for an extended period, receiving only security patches.
Overall it is a reasonable compromise between the desire to remain secure and up to date on the one hand, and the wish to keep control over your PC and to avoid breaking applications on the other.
All about the apps
Windows 10 has discarded the dual personality of Windows 8, but still has two distinct types of application. UWP apps may now look similar to classic desktop apps, but there are big differences under the covers. Even if you are not a developer, it is worth reading about the app lifecycle, which explains how UWP apps can be suspended or terminated by Windows. When they crash, they typically exit silently, which can be confusing, though this is in line with Microsoft's guidelines. Most UWP apps are single instance, including Microsoft's Office Mobile where multiple instances would be useful, though multi-instance apps are possible (Calculator is one). Users will discover that UWP apps are not quite like desktop apps.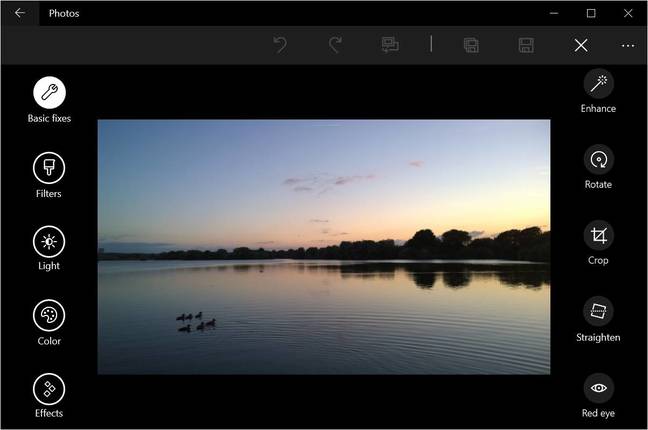 The Windows 10 Photos app
A key difference between Windows 8 and 10 is the effort Microsoft has made with its own apps. Groove Music (formerly Xbox Music) adds FLAC support as well as the ability to stream personal music files stored on OneDrive, Microsoft's cloud storage. Photos also does a good job of hooking into OneDrive, and includes basic editing and enhancement features, or you can use it for slide shows perhaps in combination with wireless projection to a large display, also built into Windows 10. Mail and Calendar are improved over the Windows 8 equivalents, and the ability to run in a window makes them more usable. Maps has acquired features familiar to Windows Phone users, such as the ability to download maps for use offline.
There is still an issue with UWP apps tending to be stupidly big and bold on occasion – Calculator, for example – but at least touch usability is there. Microsoft has had the sense to leave well alone with some accessories, including Notepad, Paint, and Character Map.
Office Mobile, substantially the same suite of apps (Word, Excel, and PowerPoint) as found on iOS and Android, offers an impressive subset of features when compared to full desktop Office, together with a design that works for touch as well as mouse/keyboard. Another app worth checking out is Fresh Paint, which simulates physical painting through a variety of brushes and effects.
This first-party effort is important, since it will help persuade users that the Windows Store is worth investigating. This in turn may convince developers that if they build apps for Windows 10, they will find a market. Microsoft desperately needs this to happen in order to revive the Window ecosystem, especially in the consumer market. It is not surprising then that Cortana/Search includes Store results, giving users a one-tap link to install a discovered app.
The Store itself is in a better state than at the launch of Windows 8, but that is faint praise. The absence of compelling apps remains obvious. Whether or not Microsoft can get over this hump is a key Windows 10 question; at this stage all we can say is that it is broadly going the right way about it (at last).
Could the Windows Store become the main way of deploying Windows applications? That is Microsoft's goal, but it needs two things that are not yet available before it can happen. One is the Enterprise Store, a way for businesses to deliver custom applications through the same mechanism. The other is Project Centennial, which puts desktop applications in a virtual wrapper for Store delivery.
Similar topics