Edge Browser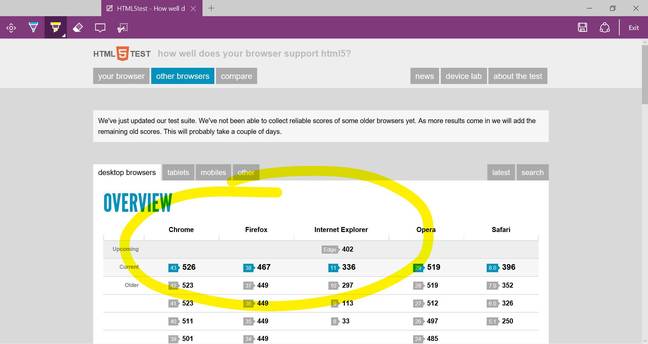 The Edge browser
Exclusive to Windows 10 is the Edge browser, a reworked Internet Explorer (IE) with a new user interface and legacy baggage removed. Edge is faster and more standards-compliant than IE has ever been, and beats Chrome and Firefox on some benchmarks, though it remains behind on HTML5 standards. This site, for example, scores 402 for Edge versus 336 for IE11, 467 for Firefox, and 526 for Chrome. Microsoft is promising a fast upgrade cycle for Edge and may catch up. The Edge user interface is both clean and designed for touch, and it is worth a try for Windows 10 users.
A unique Edge feature is the ability to annotate web pages with ink or typed notes. Once annotated, you can save the page either to the OneNote notes application, or to a reading list, or as an image for sharing. This could be useful for research notes, though it is hardly a killer feature.
Windows 8 confused users by offering two versions of IE, one for Metro and one for desktop. Windows 10 also has two browsers, though for better reasons. Edge lacks extensibility or plug-in support, and some sites work in IE11 but not in Edge. There is therefore an Open in Internet Explorer option in Edge, which Microsoft itself recommends for parts of its Office 365 site.
DirectX 12
Included in Windows 10 is DirectX 12, Microsoft's latest API for hardware-accelerated graphics. Microsoft claims around a 20% performance increase, which means higher-quality rendering and increased frames per second (FPS), thanks to more efficient use of the graphics processing unit (GPU) and lower-level hardware access.
Cortana
Cortana is Microsoft's digital personal assistant, featured first in Windows Phone and now coming to PCs in Windows 10. Cortana is not available in the UK, other than by setting your PC to US English. When enabled, Cortana replaces the Search panel. Cortana requires "speech, inking, and typing personalization" to be enabled, as well as location services, which means that all your input will be analyzed as personalization data for Cortana to chew on. Some data is sent to Microsoft as explained here. You can get more fine-grained control over what is sent to Microsoft by disabling Cortana; that is the trade-off.
When enabled, Cortana will endeavor to deliver reminders and recommendations according to settings that you can customize in the "Notebook," which represents the data Cortana stores and how it is used. For example, you can set whether or not Cortana shows news stories in her panel, and whether they are local, general headlines, or personal interests.
Cortana is also a voice input agent. You can create appointments, start applications, or perform web searches, for example. Developers can also extend Cortana for their own applications.
Privacy-conscious users will disable Cortana, while others will find her fun to demo but of little real use. It makes better sense on a small tablet or phone than on a desktop PC. There is potential here though, both as an assistive technology and for reminders and notifications. Still, with Google Now and Apple Siri also vying for your attention, how many digital assistants does one person need?
Xbox Live Streaming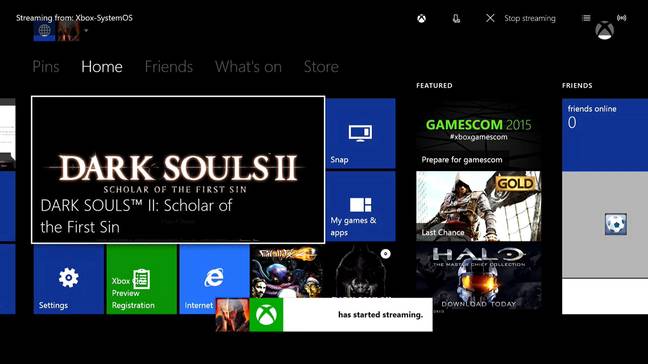 Xbox Live Streaming to Windows 10
The Xbox app delivered with Windows 10 supports Xbox Live Streaming, letting you connect to an Xbox One console and play games on your PC. A wired connection is recommended, but streaming also worked well over wireless in our tests. You also need a wired Xbox controller plugged into the PC; I used a 360 controller. If your console is set to instant-on, you can turn it on remotely. What you get is a remote session on the console, allowing you to navigate the dashboard and play games as if you were using it locally. Xbox Live features work as you would expect. Xbox Streaming is a great feature, allowing you to play games when the TV in the living room is in use, for example, or want to try playing close up to the screen on your desk or laptop.
Another Windows 10 feature is cross-device gaming, where a player on a PC plays alongside or against a player on a console. This has been demonstrated by Microsoft using the forthcoming Fable Legends, due later this year.
Similar topics