This article is more than 1 year old
Bloke cuffed for blowing low-flying camera drone to bits with shotgun
Sharpshooter exercises Second Amendment rights
A father of two girls didn't take too kindly to a camera-equipped quadrocopter hovering over his house and snooping on his kids – so he blasted it out of the sky.
Now he's facing charges of first-degree criminal mischief and wanton endangerment.
William Merideth, 47, was relaxing at his home in Hillview, Kentucky, US, on Sunday afternoon when his daughters told him a drone was flying over the neighborhood. The aircraft hovered low in his neighbor's garden, and then swung by his home.
"I went and got my shotgun and I said, 'I'm not going to do anything unless it's directly over my property,'" Merideth told WDRB News on Wednesday.
"Within a minute or so, here it came. It was hovering over top of my property, and I shot it out of the sky. I didn't shoot across the road, I didn't shoot across my neighbor's fences, I shot directly into the air."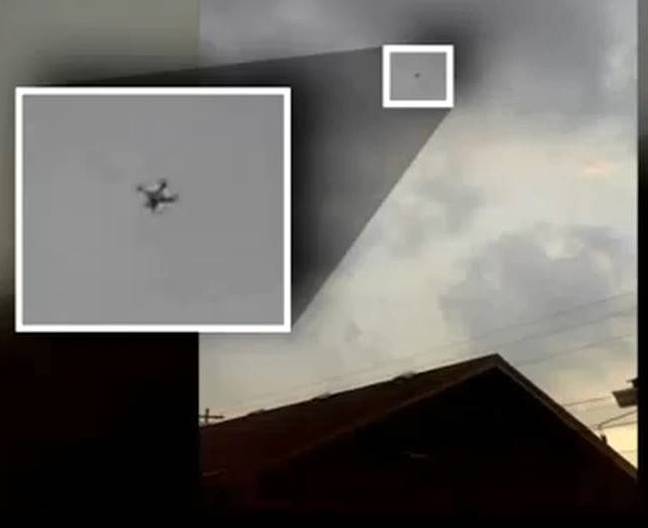 Caught on camera ... The drone spotted flying over the Merideths' home
(Credit: WDRB News)
According to the police, the drone was worth $1,800, and the owners were rather peeved at having their expensive hardware shot out of the sky. The four operators came to remonstrate with Merideth, but he saw them off American style.
"They asked me, 'Are you the S-O-B that shot my drone?' and I said, 'Yes I am,'" he said. "I had my 40mm Glock on me and they started toward me and I told them, 'If you cross my sidewalk, there's gonna be another shooting.'"
The cops were summoned to the scene, and Merideth explained to them that his Glock handgun was openly carried and therefore legal. However, they arrested him for firing his shotgun within city limits, and took him to jail.
Merideth has since been released on bail, and said that he's disappointed with the officers' response. He's unrepentant, and said he plans to pursue legal action against the drone's operators.
"You know, when you're in your own property, within a six-foot privacy fence, you have the expectation of privacy," he said. "We don't know if he was looking at the girls. We don't know if he was looking for something to steal. To me, it was the same as trespassing."
As El Reg's global editor and resident weapons expert has pointed out, shooting down a drone with a shotgun is difficult at the best of times. The short range of the weapon and maneuverability of the drone makes it a tough score, so either Merideth is a dead-eye shot or the drone was very low and slow when it crossed over into his property. ®
Bootnote
Vulture Central's backroom gremlins think Merideth meant a Glock model 40 chambered in 10mm, rather than a 40mm pistol – which would make the BFG look like a child's toy.