This article is more than 1 year old
Will the PC glory days ever return, WD asks as its finances slip
Disk units and revenues spin down as desktop market declines
Are the glory days gone for good? Will the PC market ever come back? AS WD rues the damage that declining PC disk sales have done to its revenues, that's a question that will be exercising its product strategists as they ponder its latest results.
Revenues for its fourth fiscal 2015 quarter were 14 per cent down from a year ago at $3.2bn, which is also 10 per cent down quarter-on-quarter. Net income was $220m, 31 per cent less than a year ago and 43 per cent under the prior quarter.
The full year figures didn't look great either. Revenues of $14.6bn were three per cent down from fiscal 2014's total, and net income of $1.47bn was six per cent less than a year ago. Two charts show these declines in quarterly and annual numbers: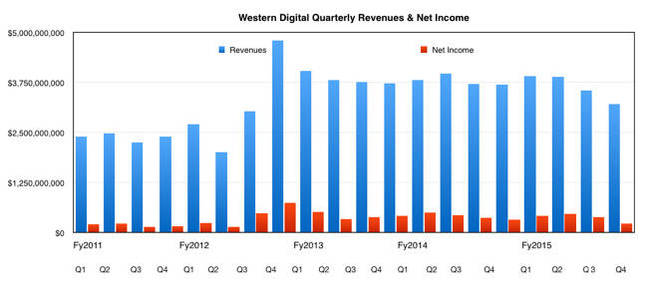 WD's quarterly revenue/profit trends to Q4 FY 2015
And the annual trend: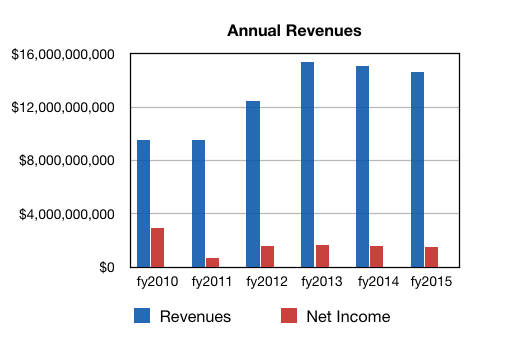 WD annual revenue/profits trend
WD's CEO/president Steve Milligan fingered PC market malarkey. "Demand for our fourth fiscal quarter was lower than expected given a weak PC market. In that context, I am satisfied with our performance."
Enterprise SSD revenue more than doubled over the year to $244m. Here's a chart showing how it's grown: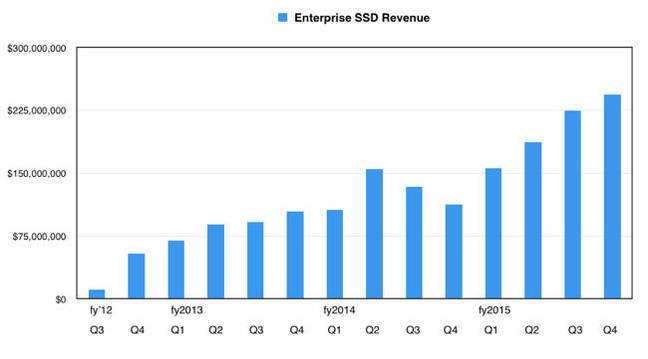 With flash storage clearly being the future for enterprise primary data storage WD is on the right track here. Milligan said; "We expanded our footprint in the enterprise SSD space with the initial ramp of our new [HGST] Ultrastar PCIe NVMe offering. It has been qualified with several leading customers and we expect revenue from this product to increase throughout fiscal 2016."
There were non-PC disk drive bright spots, according to Milligan. "We saw strong demand for our high capacity helium and 15K RPM 2.5-inch performance hard drives."
Altogether 48.5 million disk drives were shipped, averaging $60 each.
Within that enterprise drive sergment, shipments (at 1.2 million) were down four per cent sequentially. WD pushed out 15.5 million 2.5-inch mobile drives, 11.6 million desktop drives, 9.1 million consumer electronics sector drives (includes games consoles), and 5.2 million retail drives.
Overall Milligan said: "Our view of persistent data growth remains intact driven by mobility and the cloud. The outlook for our enterprise storage business remains healthy and we believe we are well positioned to address this growing market space."
And the PC space? "We believe it is prudent to remain cautious in the near term, given the timing of the Windows10 and Skylake launches. That being said, we are seeing early signs of market stabilisation, leading us to believe that PC market demand could pick up toward the end of this calendar year."
And after that? We think the desktop market seems to be under sustained threat from notebooks, tablets and even smart phones, such that PC sales will surely broadly decline for several years, driving the desktop disk drive market down with it, particularly if desktop owners move to flash drives instead of disk.
Milligan talked about the delay with MOFCOM, the Chinese state regulatory agency, agreeing to lift its hold on full merging of WD and HGST operations. Based on talks with it, WD is "hopeful that they can conclude their evaluation of our application to lift the hold separate in the near future."
That surely means with three months – by the end of October – in our book. But it could be six months.
Stifel MD Aaron Rakers expects the merger to realise $400m/year in operational expense savings plus savings in cost of goods bought.
Next quarter WD hopes to see revenues between $3.2bn and $3.3bn, well down on the $3.9bn it earned a year ago. ®