You wait for a bus forever, then two come along at once. So it is with EMC and SPC benchmarks, and all of a sudden we have both SPC-1 VNX8000 and SPC-2 VMAX 400K.
The Storage Performance Council lists industry-standard random block IO performance (SPC-1) and streaming storage performance benchmark results (SPC-2). Each one provides a numerical performance score in terms of IOPS (SPC-1) or MB/sec (SPC-2), and a price/performance score based on the product's list price. So we have an objective way of comparing different vendors' storage array products' performances.
As many vendors don't allow customers to release performance information, through end-user license agreement (EULA) restrictions these SPC benchmarks, although synthetic, are the best comparative performance measures we have.
The VNX8000 was introduced in September 2013, and came with a SPECsfs2008 benchmark, which showed it had good NFS file access performance.
Its SPC-1 result [PDF] was 435,067.33 SPC-1 IOPS with an overall response time at 100 per cent load of 0.99 millisecs. The list price was $176,942.25 and the price/performance ($/IOPS) was 0.41.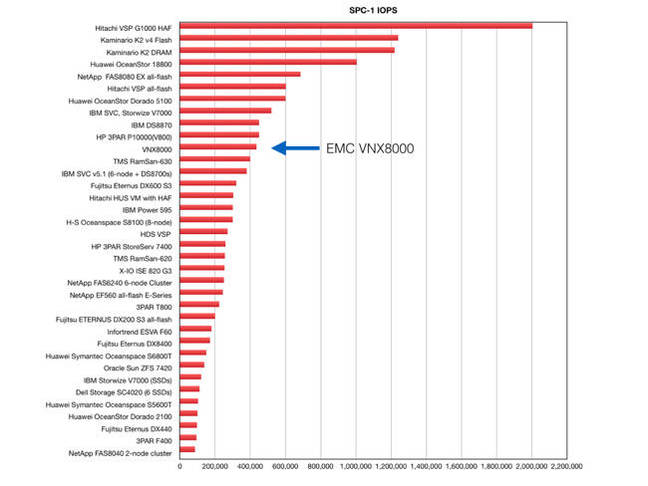 SPC-1 IOPS for EMC's VNX8000 showing its block IO abilities
This block IO result is a solid mid-range one, with the VNX8000 beating several systems and losing out to others. Some of the systems in this chart are quite old. For example, HP's 3PAR P1000 result is dated October 2011. The SVC Storwize V7000 is from January 2012.
Here's the price/performance chart: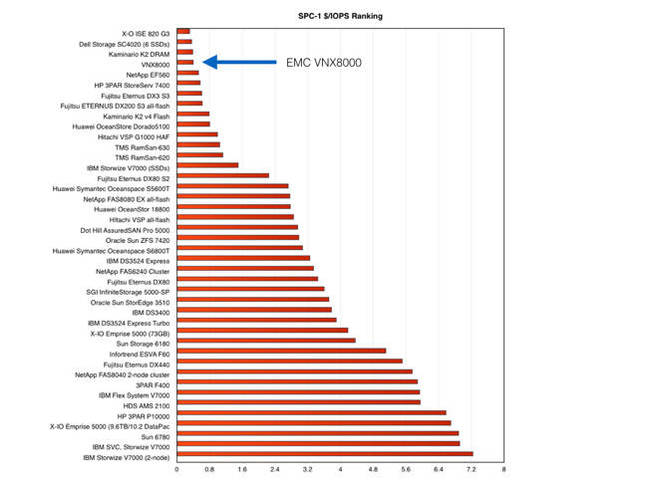 Price/performance SPC-2 ranking
Fourth from the top, the VNX8000 does very well indeed, beating out NetApp's all-flash EF560 and an HP StoreServ 7400, as well as an all-flash Kaminario K2 v4. But that is a much more powerful block IO box, shooting out 1,239,898 SPC-1 IOPS.
The VNX8000 used a hybrid flash/disk configuration, mostly flash though, with 40 x 100GB SSDs and 4 x 300GB 15,000rpm 2.5-inch drives. There were four enclosures, three with 10 SSDs only, SAS links inside the system, and 8Gbit/s Fibre Channel to the accessing hosts.
SPC-2
On streaming IO, the top-end VMAX 400K system does spectacularly well in an all-flash configuration, with SPC-2 [PDF].
The SPC-2 MB/sec score was 55,643.78, which beats an all-flash Kaminario K2 v4's 33,474.03 and an Oracle ZFS-4's 31,486.23.
In sheer price/performance terms, the VMAX is rated at $33.58, worse than the K2's $29.79 and much worse than the ZS4's $17.09. But plot these performance and price/performance measures in a scatter diagram, and the VMAX 400K leads the field in terms of combined performance (aggregate MB/sec) and price/performance.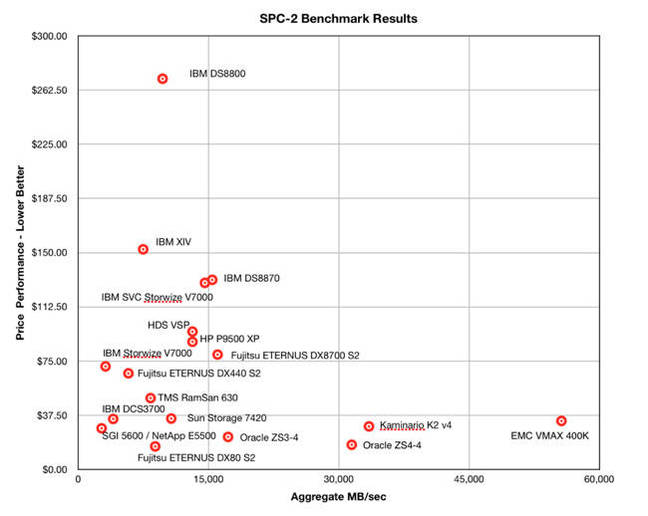 The Register's collected SPC-2 results in scatter diagram form. The VMAX 400K is in pole position, in the bottom right corner.
It's the best performer in aggregate. The discounted price was $1,868,567.85, with a 62 per cent discount off list.
The 400K had 8 x VMAX 400K engines and 52.8TB of capacity, which included 256 x 200GB SSDs plus spares. As with the VNX8000, there were SAS links inside the system and 8Gbit/s FC outside.
EMC's Jeff Boudreau, SVP and GM of the enterprise and mid-range systems d ivision, writes in a Pulse blog: "On a level playing field, we're showing that EMC knows how to compete on both value and performance. The midrange leading SPC-1 IOPS and record setting SPC-2 bandwidth performance demonstrate the design of each of these products for scalable hybrid flash performance at exceptional TCO, and help simplify customer choices in a loud and crowded storage market." ®