Comment HDS storage revenues are declining, but not as much as EMC's core storage business. Joe Tucci's business is doing better in its move to add business outside its trad arrays and HDS is mounting an Internet of Things catch-up, looking to store and analyse the hoped-for IoT data deluge.
According to Stifel MD Aaron Rakers, Hitachi had total Storage Solutions revenue of ¥117bn, up 12.5 per cent year-on-year in the second (June) 2015 quarter.
However, in dollar terms he calculated this means Hitachi Data Systems – the storage part of Hitachi outside Japan – saw total Storage Solutions revenue of about $960m, down six per cent year-on-year and 12 per cent sequentially. This was worse than the three per cent year-on-year revenue decline in the previous two quarters.
HDS has concentrated on the high-end storage market with its Virtual Storage Platform (VSP) G1000 arrays.
In comparison, EMC's total Information Storage revenue of $4.03bn grew 1 per cent annually, 10 per cent sequentially, in the June quarter. Within that overall number, though, EMC saw an 11 per cent year-on-year decline in its traditional storage solutions revenue, with high-end VMAX revenue declining 14 per cent year-on-year, and Unified & Backup / Recovery (which includes VNX and Data Domain) revenue declining 9 per cent year-on-year.
In storage array terms, HDS is doing better than EMC.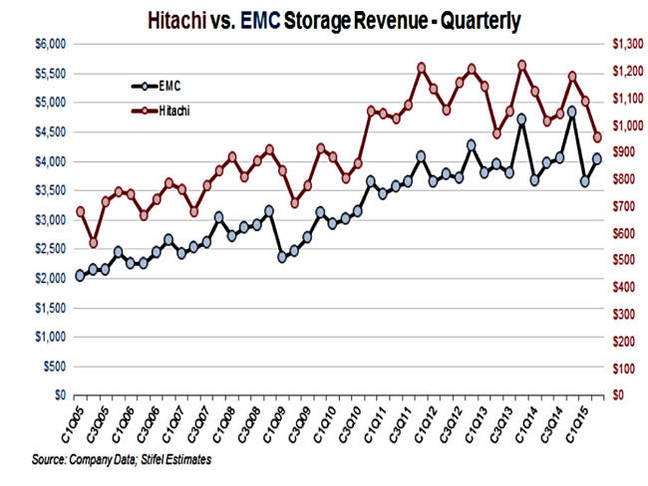 HDS and EMC Information Storage quarterly revenue comparison; pretty level pegging overall
HDS bought Pentaho in June, to get into analysing IoT data streams and it has its HSP (Hyper Scale-out Platform) to store the incoming IoT sensor data deluge.
We might characterise this as a second phase of HDS' enterprise data storage business. The first phase was storing classic enterprise primary and secondary data on big iron and dual-controller arrays. This is now moving to phase two: adding a storage tier for holding massive amounts of sensor-generated data for analysis to make the kit and processes that generate the sensor data more efficient. ®