This article is more than 1 year old
If you installed Windows 10 and like privacy, you checked the defaults, right? Oh dear
How to not hand everything over to Microsoft
Here's a quick FYI: if you installed Windows 10, and in a rush to try out Microsoft's new operating system, you clicked through the default settings without looking, you may want to look again.
If you value your privacy, or have a distrust of Microsoft, you probably want to make sure some or all of the settings are flipped to off. These include things like sending "typing and inking" data to Microsoft's servers, and letting apps identify you by your unique advertising ID number.
Your physical whereabouts and your web browser history, plus your contacts and calendar records, are also phoned home to Redmond. Your PC will even let other computers download updates from it, and potentially share your Wi-Fi network with strangers.
There's a handy guide here to the settings you need to look out for during the install and afterwards. On an installed system, find the Settings app and select Privacy to see all the controls.
You probably want to turn Cortana off, unless you find it really useful, and don't forget to opt-out of personalized ads (more info here).
Some of the features, which are on by default, have their uses: for example, SmartScreen is supposed to stop you from downloading malware or visiting websites known to be infecting PCs, assuming you're using Internet Explorer and apps from the Windows Store. And sending odd-looking executable files to Windows Defender so they can be scanned for malware improves security for everyone using Windows 10.
But the fact that they're on by default, and hidden away unless you know where to look, is for some people just plain rude. And not a little creepy.
"Microsoft basically grants itself very broad rights to collect everything you do, say and write with and on your devices in order to sell more targeted advertising or to sell your data to third parties," the privacy warriors at European Digital Rights told the FT on Monday.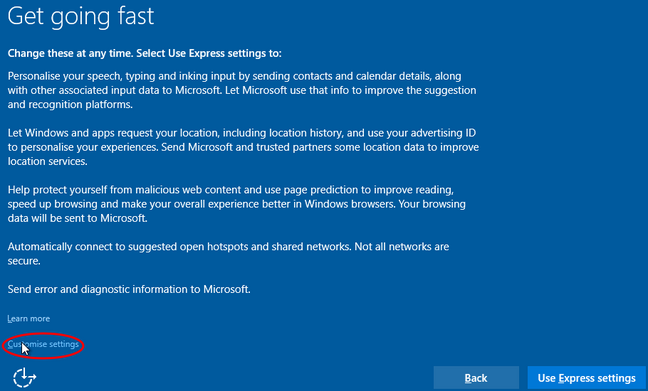 Microsoft Windows 10 ... Never accept the defaults
Microsoft says on its privacy page:
Your typed and handwritten words are collected to provide you a personalized user dictionary, help you type and write on your device with better character recognition, and provide you with text suggestions as you type or write. Typing data includes a sample of characters and words you type, which we scrub to remove IDs, IP addresses, and other potential identifiers.
It goes on to add:
We will access, disclose and preserve personal data, including your content (such as the content of your emails, other private communications or files in private folders), when we have a good faith belief that doing so is necessary to:

comply with applicable law or respond to valid legal process, including from law enforcement or other government agencies;
protect our customers, for example to prevent spam or attempts to defraud users of the services, or to help prevent the loss of life or serious injury of anyone;
operate and maintain the security of our services, including to prevent or stop an attack on our computer systems or networks; or
protect the rights or property of Microsoft, including enforcing the terms governing the use of the services - however, if we receive information indicating that someone is using our services to traffic in stolen intellectual or physical property of Microsoft, we will not inspect a customer's private content ourselves, but we may refer the matter to law enforcement.
But the company tells the press: "Windows does not collect personal information without your consent. To effectively provide Windows as a service, Microsoft gathers some performance, diagnostic and usage information that helps keep Windows and apps running properly. Microsoft uses this information to identify problems and develop fixes."
Yes, these are interesting features – perhaps even useful. It would be fantastic, though, if there was more information upfront about the services before we decide to enable them, as opposed to forcing them on us and hoping we won't notice or care. We're all adults, and we know what it feels like when someone is trying to pull a fast one on us.
And Windows 10 feels like it's trying to pull a fast one on a lot of us.
Before the Microsoft apologists get too upset, there are similar defaults in OS X and some flavors of Linux. Google Android and Chrome are also pretty aggressive with your data. It always pays to check the default settings. ®