Reclothed BlackBerry Passport launched as Silver Edition
Third time lucky for the Phreak Phablet?
BlackBerry has revamped the design of its Passport, putting its monster QWERTY phablet in a new upmarket frame.
The "Silver Edition" Passport contains the same guts as the original, launched last autumn, but now sports rounded bottom corners, a tweaked keyboard and new camera housing, as well as a grippier back.
The phone, which is the size of a US or EU passport, grabbed headlines at launch, not just for its unusual square-screen (1440x1440) design, but for including an innovative capacitive physical keyboard that doubles up as a trackpad: it accepts gestures for scrolling, swiping and text editing. Read our review of it here.
Strictly speaking, the new model is the third Passport BlackBerry has cranked out, or the fourth if you count the official very-limited-edition Gold Edition.
AT&T launched an even-heftier, but more hand-friendly Passport with four rounded corners, a longer "chin", and Qi wireless charging.* The Silver Edition is a hybrid of both designs. The sharp-cornered original was hard on the hand, and the new tapered design is intended to alleviate that.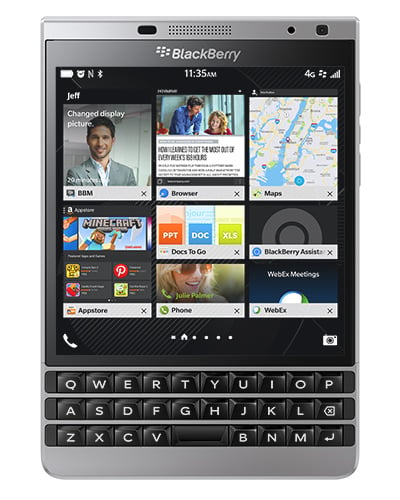 It's 3.4mm taller, 0.2mm wider and the same depth as the original, adding nine grams to the original weight.
The Silver Edition also carries a $50 premium over the original Passport – but then the original was never aimed at bargain hunters. It's only available in the US and Canada for now, for $549, or C$649 SIM-free from the BlackBerry itself, although early buyers will get $130 worth of accessories chucked in. As with the original, it features a 3450mAh battery, 32GB of onboard storage, and 13MP camera.
Bootnote
* Which happens to be the model that your reporter currently lugs around, unlocked to UK networks. The rounded corners and deeper chin make a positive difference, but make no mistake, this is a two-handed device. And you don't realise how often you actually use a phone one-handed, until you use a Passport.