Diving for pearls of data just got easier, thanks to EMC/Hadoop deal
Impaling your data insights with Impala
---
Customers can now buy Cloudera Hadoop from EMC to run on their Isilon arrays, diving into data lakes for those pearls of insight; essentially running on Isilon's scale-out NAS boxes (with their native HDFS support), rather than building a separate Hadoop storage silo using cheapo DIY nodes.
Hadoop-distributing Cloudera is the biggest storage unicorn of all, with $1.87bn in funding, $740m of which has come from Intel Capital. It has now become an EMC Select partner with its Hadoop distro jointly certified and supported by Cloudera and EMC.
Sam Grocott, a marketing SVP in EMC's Emerging Technologies Division, said thousands of EMC's Isilon customers already have data lakes, and should benefit from having Cloudera Hadoop available as a base for running analytic processes on their data, getting access to Impala, Cloudera's open source, massively parallel processing SQL query engine that runs on Hadoop.
The new arrangement is somewhat similar to MapR's use of Apache Drill, Apache Hive and Spark SQL.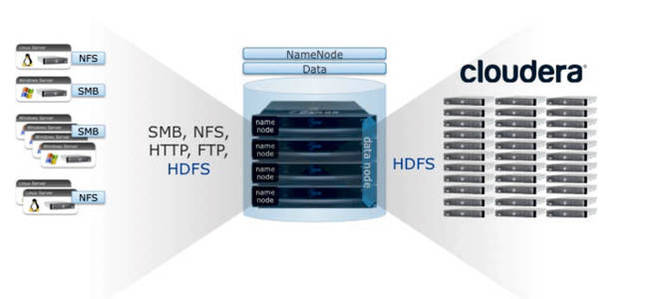 The Isilon Cloudera combo
Cloudera Business and Corporate Development veep Tim Stevens reflected pleasure in his canned quote: "With EMC's sales force now officially re-selling Cloudera, we are in the best position to further help customers preserve the value of their investments," and, we might add, increase Cloudera revenues.
His company worked with Teradata to provide Cloudera Hadoop support to its Hadoop appliance product in July, adding it to Teradata's existing Hortonworks distribution.
Enterprise customers are bound to see the attraction of combining a Hadoop Big Data analytics data store and engine with existing scale-out NAS file infrastructure, so long as the Hadoop side performs well.
Customers can license the Cloudera Enterprise Hadoop kit directly from EMC and its channel partners. Get an overview doc here (PDF). ®